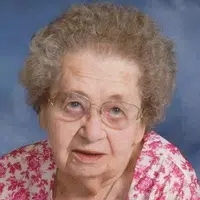 Mildred Marie "Millie" Antos, age 90 of Shawano, passed away on Tuesday, December 4, 2018. Born on July 1, 1928 in the Town of Richmond, she was a daughter of the late Elmer W. and Lela S. (Meverden) Owen.  On October 19, 1970 Mildred was united in marriage to Thomas W. Antos in Oak Park, IL.  He preceded her in death on June 7, 1996.  Mildred worked as a tailor for 7 years in the Chicago area and then worked in data entry for Alden Mail Order Catalog, retiring in 1983.  In 1990, the couple moved to Shawano.  Millie was a member of Sacred Heart Catholic Church.
Mildred is survived by numerous nieces, nephews, other relatives and friends.
She was preceded in death by her husband, parents and 16 brothers and sisters including her twin brother, Milton.
Funeral Mass for Millie will be held at noon on Tuesday, December 11, 2018 at Sacred Heart Catholic Church in Shawano with Fr. Tom Farrell officiating. Entombment will be in Sacred Heart Mausoleum.  Visitation will be held at the church from 11:00 am until the time of the service.  Swedberg Funeral Home is assisting the family with the arrangements.