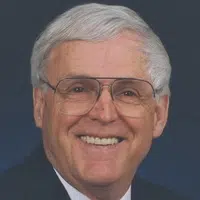 Fred Ponschok, age 89 of Appleton, formerly of Shawano, died on Sunday, December 2, 2018. Born on May 23, 1929 in Detroit, MI, he is the son of the late Edward and Frances (Belka) Ponschok.  Fred grew up in Kaukauna where he attended the Holy Cross Catholic School for grades 1-8.  Following his graduation from Kaukauna High School in 1947, Fred served in the United States Army during the Korean War from 1951 to 1953 and was discharged as a Sergeant.  He then pursued college as a student at the University of Wisconsin – Stout, where he received a Master's Degree in Vocational Education.  On August 28, 1954, Fred was united in marriage to Shirley Schmitz at the St. Mary's Catholic Church in Kaukauna.  Fred was hired by the Shawano Gresham School District in 1957, where he served as a teacher and administrator for 38 years.  Fred was an avid Packer fan – missing only three games at Lambeau Field from 1957 through 2010.  One of his favorite activities was fishing.  Fred was a proud member of the Wisconsin Retired Educators Association as well as the Wisconsin Resource Protection Council.  He was a former City of Shawano Alderperson for 15 years, Past President of Junior Achievement of Shawano County, Past President of Shawano Area Veterans, Inc., Past Chair of Protect Our Wolf River Shawano, a former member of the Sacred Heart School Board, and Past Commander of American Legion Post #117 Shawano.  During his lifetime, Fred was honored to have received the following awards: Distinguished Citizen of the Year 2003 – Shawano Chamber of Commerce; Volunteer of the Year 2004 – Shawano Area Community Foundation; United Way Distinguished Service Award 1989-1991 and Bronze Leadership Award 1990 – Junior Achievement, Inc.
Fred is survived by: his wife of 64 years, Shirley; two sons, John (Terri) Ponschok of Shawano; David (Tracy) Ponschok of Woodbury, MN; two daughters, Mary Beth (Barry) James of Neenah; Lisa (Phil) Ruder of Forest Grove, OR; 11 grandchildren, Adam Ponschok, Jordan Ponschok, Ashley Ponschok, Alexandra (Dan) Van der Vieren, Joshua (Ruth) Buss, Jacob (Natalie) James, Brandon James, David James, David Ruder, Zoe Ruder, and Sam Ruder; and three great-grandchildren, Evelyn Kate Buss, Jenica Belle James, and Remi James.
A memorial service will be held at 11:00 a.m. on Monday, December 10, 2018 at Sacred Heart Catholic Church in Shawano. Military Honors will be conducted by the Shawano American Legion Post #117.  Inurnment will be in Sacred Heart Mausoleum.  Visitation will be held from 3:00 p.m. until 5:00 p.m. on Sunday, December 9, 2018 at Swedberg Funeral Home in Shawano and again at the church on Monday from 10:00 a.m. until the time of the service.  In lieu of flowers a memorial fund in Fred's name is being established.
Fred's family would like to thank the staff at Brewster Village for all of their care and support.