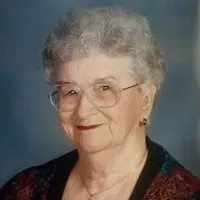 Opal Mae Dahl, age 90, widow of Lawrence Edward Dahl formerly of Big Falls WI., passed away on November 30th, 2018 at the Iola Living Assistance Nursing Facility in Iola, WI. Opal was the daughter of the late Walter and Laura (Kretschmer) Krueger. She attended Big Falls Elementary School and graduated from Marion High School in 1945. Opal was united in marriage to Lawrence Dahl on September 11th, 1948.
She was a lifelong member of the St. Peter Lutheran Church, Big Falls. As a young girl, Opal loved riding in the bed of a pickup truck to attend dances at the Northland Ballroom and Big Lodge. For many years she was a very active member of the Klik Klak Club and Ladies Aid. Opal was also a highly gifted writer, penning remarkably stunning poems. After starting her life with Lawrence, Opal supported him every step of the way during his career, tending to the farm in his absence, all while raising their beloved five children. In the summers Opal could be found planting bountiful gardens overflowing with petunias or perfecting her already exceptional golf game. As a devout fan of the Green Bay Packers and Milwaukee Brewers, she rarely missed a game. Opal was a very unique, strong woman who never ceased in supporting the people in her life.
Opal is survived by: her daughter, Amy (Don) Vandeest of Weslaco, TX, her daughter Kathleen Dahl of Iola, WI, her son Lawrence (Gina Johnson) Dahl of Big Falls, WI, Charles Dahl of Iola, WI, Gretchen Dahl of Shelbyville, MO, eight grandchildren, Valerie (Ryan) Slowik of Knoxville, TN, Carroll Dahl of Menasha, WI, Heather (Jeff) Hayes of CA, Casie (David Schanke) Hernandez of Sherwood, WI, Abigail (Keith) Buice of Amherst, WI, Lawrence (Megan) Dahl of Portage, WI, Kindred (Taylor Kandlor) Dahl of Fondulac, WI, Jamie Dahl-Smith of Shelbyville, MO, ten great-grandchildren, Kaedyn Hernandez, Gus Buice, Emersyn Banda, Jameson Schanke, Tye Slowik, Finn Schanke, Bea Buice, Avery Slowik, Max Dahl, and Finley Dahl; and many nieces and nephews.
Mrs. Dahl is preceded in death by her parents, Walter and Laura Krueger, her husband, Lawrence Dahl, two brothers, Earl and Stanley (Bucky) Krueger, and two sisters, Doris Faehling and Genevieve Mueske.
Funeral services will be held Wednesday, December 5th, 2018 at 1:00 P.M. at St. Peter Lutheran Church, Big Falls, Rev. Janice Kuder will officiate. Burial will follow in the Big Falls Cemetery following the service. The family will receive friends for visitation at the church from 11:00 A.M. until the time of service. Those who desire may return to the church for a meal and fellowship. Beil-Didier Funeral Home, Marion, is assisting the family.