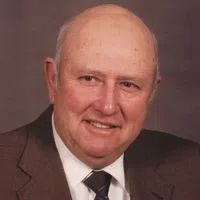 Norman Gust Rindt, age 90 of Shawano, passed away on Tuesday, November 27, 2018 in Shawano. Born in the Town of Waukechon on December 15, 1927, he was the son of the late Albert and Effie (Hammond) Rindt.  He was baptized and confirmed at St. James Lutheran Church in Shawano, where he was a life-long member.  Norman attended Riverside and Beyer Schools and graduated from Shawano High School in 1947.  On October 15, 1949, Norman was united in marriage to Mavis M. Thimke.  Norman farmed all his life on his family's original farmstead established in 1856.  He and Mavis received the Century Farms award at the Shawano County Fair and later the Sesquicentennial Award.  Norman retired from farming in 1989, but still helped his son, Mike and his grandson Reagan, who are carrying on the family farming tradition.  Norman was a former member of the Shawano County Historical Society and the former director of Equity Livestock Shipping Association.
Norman is survived by: his wife of 69 years, Mavis Rindt; one son, Mike (Patty) Rindt; two grandsons, Reagan Rindt of Shawano and Riley (fiancée, Melissa Seipp) Rindt of CA.  He is further survived by:  two sisters, RoseMary Rindt of Appleton and Beatrice (James) Klevesahl of Clintonville; as well as numerous nieces and nephews.
He was preceded in death by his parents and two sisters, Bernice Vomastic and Joann Lubinski.
Funeral services for Norman will be held at 11:00 am on Saturday, December 1, 2018 at St. James Lutheran Church in Shawano with Rev. Steve Schauder officiating. Burial will be in Woodlawn Cemetery.  Visitation will be held at the church on Saturday from 9:30 am until the time of the service.  Swedberg Funeral Home is assisting the family with the arrangements.
Norman's family would like to extend a special thank you to Shawano Health Services and his personal care givers, Amanda and Denise.