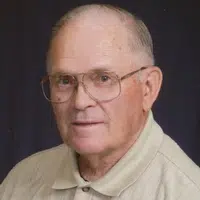 Melvin H. Rohloff, age 83, of Cecil, passed away at home on Friday, November 23, 2018. Melvin was born in Green Bay on July 22, 1935 to the late Percy and Alma (Kraning) Rohloff.  Melvin graduated from Pulaski High School in 1953 and on June 11, 1958 Melvin married Janet Leanna in the Town of Glenmore.  Together the couple raised four children and owned and operated a dairy farm.  Melvin loved to dance and the jitterbug and polka were two of his favorites.  In his free time he enjoyed watching his brother and nephew race at the Shawano Speedway and going to auctions.  He is a member of Sacred Heart Catholic Church in Shawano and a former member of St. Martin of Tours Catholic Church in Cecil where he would often be the last one out of church because he enjoyed visiting with the other people there. Melvin was a wonderful husband, father, and grandfather and he will be deeply missed by those who knew and loved him.
Melvin is survived by: his wife of over 60 years, Janet; four children, Lynn (Tim Geiger) Mehlberg of Appleton, Joan (Kevin) Ainsworth of Shawano; Marcia Paffrath of Owatonna, MN, and Mark (Linda) Rohloff of Cecil; 10 grandchildren, Lisa (Matt) Dix, Stuart Mehlberg, Samantha (Derek) Blum, Matthew (Christine) Ainsworth, Alexandra (Colin Rime) Paffrath, Callan (fiance Mike Jamison) Paffrath, Savanna Rohloff, Jade (Haley) Rohloff, Benjamin Rohloff, and Aneta (Sam) Falck; three great grandchildren, Madelyn, Abigail, and Maricela; brothers-in-law and sisters-in-law, Robert (Margette) Leanna, Bernard "Bud" (Judy) Leanna, James (Lucy) Leanna, and Arlene Rohloff. He is further survived by numerous nieces, nephews, other relatives, and many friends.
He was preceded in death by his parents, two sons-in-law, Joel Mehlberg and Ted Paffrath, a brother, Mervin and a sister, Lorraine (Richard) Lepak.
A Funeral Mass will be held at Sacred Heart Catholic Church in Shawano on Friday, November 30, 2018 at 11:30am with Fr. Tom Farrell officiating. Entombment will be in Sacred Heart Mausoleum.  Visitation will be held at the church on Friday from 10:00am until the time of the mass.
Melvin's family would like to extend a special thank you to Unity Hospice for all the care they provided for Melvin and his family.
Swedberg Funeral home and Crematory is assisting the family