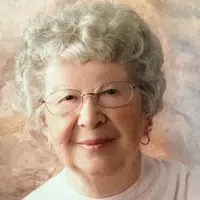 Betty J. Sederstrom, age 93 of Bonduel, passed away on Tuesday, November 20, 2018 in Bonduel. She was born in Gillett, WI on April 21, 1925, a daughter of the late Walter and Emma (Lifke) Rasmussen.  On June 28, 1943, Betty was united in marriage to Leonard W. Sederstrom at St. John's Lutheran Church in Pulcifer, WI.  He preceded her in death on April 3, 1994.  On July 31, 1996, Betty was united in marriage to Ervin Sederstrom.  He preceded her in death on December 6, 2001.  Betty was a former member of Hope Lutheran Church in Cecil, where she served 16 years as the treasurer of the Ladies Aid and volunteered as an usher.
Betty is survived by: her children, Larry (Sandra) of Iola, Randy (Carrie) of DeSoto, MO and John (Sue) of Wittenberg; five grandchildren, Becky (Pat) McHugh, Dawn Sederstrom, Lily (Ben) Christoff, Nelson Sederstrom and Joshua Sederstrom; three sisters, Dorothy Johnson of Gillett, Donna Fabry of Green Bay and Darlene Mersdorf of Oconto Falls; one brother, Lyle (Mary) Rasmussen; as well as numerous nieces, nephews, other relatives and friends.
She was preceded in death by: her first husband, Leonard; her second husband, Ervin; one son, Leonard, Jr.; her parents; two brothers, Ron Rasmussen and Milo Rasmussen; and three brothers-in-law, Alfred Johnson, Clarence Fabry and Richard Wesolowski.
Funeral services for Betty will be held at 11:00 am on Saturday, November 24, 2018 at St. Paul Lutheran Church in the Town of Washington with Rev. Steven Pockat officiating. Burial will be in Woodlawn Cemetery in Shawano.  Visitation will be held on Friday, November 23, 2018 from 4:00 – 7:00 pm at Swedberg Zastrow Funeral Home in Cecil and again at the church on Saturday from 10:00 am until the time of the service.