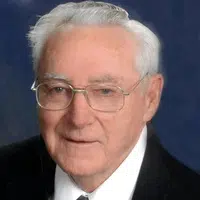 Kenneth J. Rohan, age 87, of New London, passed away on Sunday, November 18, 2018 at ThedaCare Medical Center, Neenah.  Kenneth was born on October 15, 1931 in Township of Bear Creek, Waupaca County to the late Patrick and Madjeska (Sackett) Rohan.  He was united in marriage to the love of his life, Ruth Elaine McFaul on September 22, 1954 in New London. Ken attended Bear Creek schools and graduated in 1950 from Bear Creek High School. He enjoyed playing basketball and baseball.  After high school, he worked at the 4WD in Clintonville and the Bear Creek Corners gas station.  Ken then enlisted in the Air Force and served from 1950 – 1954, residing in Wichita, KS. He was stationed at McConnell Air Force Base and was an aircraft electrician.  After service, he joined the New London Police Department, where he was the best marksman they had on the force! Second to his wife Ruth, farming was his other true love. In 1962, he purchased the Rohan home farm, where he was born, and was very proud to own. Ken was a lifelong member of the National Farmers Organization (NFO).  He enjoyed farming and raised his eleven children on the farm until retirement in late 90's.  He resided on the farm until his death.  Ken loved to drive, shoot trap and spending time with his family.  He also enjoyed singing everywhere! He would break into song any time, any place. He was a lifelong member of St Mary's Catholic Church in Bear Creek and held many offices in the church.  Ken's faith was very strong and shared that often with his family and anyone who would listen. The greatest sadness he carried was the death of his son, Patrick, in 1988 and his daughter, Colleen, in 2015.  The macular degeneration, causing him to go blind, was challenging. He always had good advice for us and many one-liners like, "You can't learn any younger", "Twice as many as half", and "There are more horse's asses in the world, than there are horses".
Ken is survived by his loving wife of 64 years, Ruth: children, Gerry (Kathleen), Clintonville, Joe (Patty), Embarrass, Mark (Cindy), New London, Mary (Bob) Hrubes, Fremont, Kenny Scott (Mary Ann), Bear Creek, Larry (special friend Doreen), Bear Creek, Steve (Yvonne), Bear Creek, David (Connie), Freedom and Margie (Chuck) Cunningham, Bear Creek; 42 grandchildren and 91 great-grandchildren.
Ken was preceded in death by his parents, Patrick and Madjeska (Sackett); in-laws, Lansing and Delia McFaul; son, Patrick and a daughter, Colleen.  Also siblings: Orville, Myrlin, Evelyn Lowney, Norbert, Patrick, Jean Dieck, Roger and Rena Mae Heiman.
The family wishes to thank the Bear Creek Area First Responders, Clintonville Ambulance Service, Gold Cross Ambulance Service, and the staff at ThedaCare in New London and Neenah for their great service and compassion shown to dad during his last days.
In lieu of flowers, a special memorial fund will be set up for improvements at St Mary's Catholic Church in Bear Creek.
Funeral Mass will be held on Saturday, November 24, 2018 at 11:00 a.m. at St. Mary's Catholic Church in Bear Creek, with Father Jack Mullarkey officiating.  The visitation will be on Friday, November 23, 2018 from 4:00 p.m. – 8:00 p.m., with a prayer service at 7:30 p.m. at Cline-Hanson Funeral Home in New London.  There will also be a visitation on Saturday from 9:00 a.m. until the time of service at St. Mary's Catholic Church, Bear Creek.
Dad, you have been an instrumental part of all of our lives.  We will remember and miss your one-liners, your appreciation of music and your true love for us every day! Thank you for being such a great example of faith and family for us!