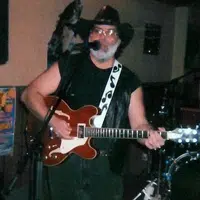 David G. Schaepe, age 64, of Tigerton passed away Sunday, November 11, 2018 at ThedaCare Medical Center – Shawano.
David George Schaepe was born on March 17, 1954 in Milwaukee to George and Marjorie (Kuehl) Schaepe.  He grew up and graduated from high school in Wausau.  Dave then went on to Northcentral Technical College, Wausau, for two years taking mostly computer classes.  In his early years, he worked at a bakery in Wausau and at the Clock Factory in Clintonville.  He was united in marriage on July 17, 1999 to Vicki A. Hattas at St. John Lutheran Church, Tigerton.  Dave was employed for some years at Impact Industries, Wausau, making drum cases and other accessories.  He also did refurbishing of machinery for a short time at Fisher+Ruckle Sales & Service, Tigerton.
Dave's true passion was always music and he could play several different instruments.  His stage name was "Dave Sage" and he traveled around the country performing with a few different bands over the years.  Mostly he played lead or bass guitar with Dixie Sage out of Wausau or Thunder Country Band from Keshena.  Dave's life always revolved around music and he really enjoyed giving guitar lessons to kids.  He also liked hunting, fishing, and playing cribbage.
Survivors include his wife Vicki of 19 years; one sister, Susan (Jerry) Jung of Wausau; nieces, nephews, other relatives and many friends.  He was preceded in death by his parents; and his father and mother-in-law, Joseph and Vande Hattas.
Memorial Service will be held on Tuesday, November 20th at 12:00 Noon at Beil-Didier Funeral Home, Tigerton.  Rev. Clifford Kessen will officiate and inurnment will be at Woodlawn Cemetery in Mattoon.  Friends may call on Tuesday from 11:00 AM until time of service at the funeral home.