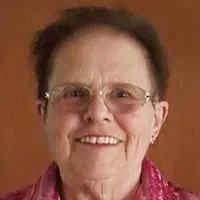 Florence Mildred Trinko, age 80 of Tilleda, passed away on Thursday, November 14, 2018 in Shawano. She was born on August 25, 1938 in Shawano County, a daughter of the late Edwin and Adella (Kerstner) Bernarde.  After graduating from Bowler High School, Florence was united in marriage to Jerry Trinko on June 16, 1956 in Tilleda.  Jerry preceded her in death on September 26, 2003.  Florence was a busy lady her entire life; raising three children while running a 50 cow dairy farm as well as working as a seamstress making clothing, gloves, leather coats and uniforms.  She was a member of Peace Lutheran Church in Tilleda where she was active in Ladies Aid, the Altar Guild and church counsel.  In her free time, Florence enjoyed knitting, crocheting, gardening and watching sports.
Florence is survived by: her three children, Kathy Mathias of Oshkosh, Michael (Debbie) Trinko of Tilleda and Carl (Deb) Trinko of Tilleda; three grandchildren, Wesley, Jamie and Adam; and seven great-grandchildren.  She is further survived by two sisters, Betty Rickert of Birnamwood and Mary (Everett) Weller of Bowler; as well as nieces, nephews, other relatives and friends.
She was preceded in death by: her husband, Jerry; one grandson, Travis Trinko; son-in-law, Robert Mathias; and brother-in-law, Alvin Rickert.
Funeral services will be held at 11:00 am on Monday, November 19, 2018 at Peace Lutheran Church in Tilleda with Rev. Lois Graper officiating. Burial will be in the church cemetery.  Visitation will be held from 4:00 – 7:00 pm on Sunday, November 18, 2018 at Swedberg Funeral Home in Gresham and again at the church on Monday from 10:00 until the time of the service.