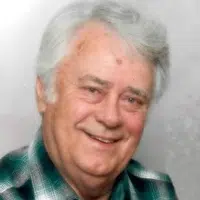 Keith A. Swearingen, age 78, of New London passed on Friday, November 9, 2018 at his home after showing strength and courage fighting cancer.
Keith Anthony Swearingen, born to Phyllis Mead Swearingen and Paul Swearingen on October 12, 1940, grew up in Mercer, WI, where he graduated from Mercer High School. After four years in the Air Force, he attended Nicolet College in Rhinelander, WI. While stationed with the 862nd Medical Group at Minot Air Force Base, he met his wife Marlene (a real looker, according to Keith) at Trinity Hospital. They shared 56 years and had six children, three grandchildren, and three great grandchildren. He often said he was proud of each one of his kids, and they were his greatest fortune.
Keith was employed in health care at Wisconsin Veterans Home at King, as well as Theda Clark Hospital in Neenah. He also worked with Century Telephone in Manitowish Waters. In his later years, he pursued his passion for antique restoration, collecting, and selling. He so enjoyed the search for "the next big find."
Keith loved his family. He leaves his wife Marlene, daughter Julie (Roy Considine), son Paul Swearingen, daughter Rachel (John Balbach), and son Jason (Shawn Kaderlik Swearingen). He is further survived by a sister Mary Swearingen, and brothers Darrell (Carol) and David Swearingen; sister-in-law Eldora (Cecil) Alg; granddaughters Tracy (Michael) Dehne, Taylor (Steve) Ryan; grandson Eli Swearingen; and great granddaughters Zarah and Aliza Dehne, and Edith Ryan.  He is preceded in death by sons Mark Alan and James Robert; parents Paul and Phyllis Swearingen, a sister Elaine (Foote) Swearingen, and in-laws Herbert and Valanda Reich.
Funeral Service will be held on Friday, November 16th at 12:00 Noon at Beil-Didier Funeral Home, Clintonville, with Rev. Kelly Loken officiating.  Burial will be at Mercer Cemetery, Mercer.  Visitation will be on Friday from 11:00 AM until time of service at the funeral home.
The family thanks all of the thoughtful friends and family who made coping with Keith's illness easier. The prayers, visits, and cards meant so much to him. The FVHO staff are so special and caring, as is RN Sarah of ThedaCare Hospice service. He often said his "family and friends made him more wealthy than any millionaire." As his granddaughter Taylor said, "He had a way of making you feel special and loved with just one glance, and he gave the best hugs." He loved animals. He also loved to play pranks and make others laugh. His quick wit, curiosity, and infectious laughter made life with him a constant adventure. We will miss him.