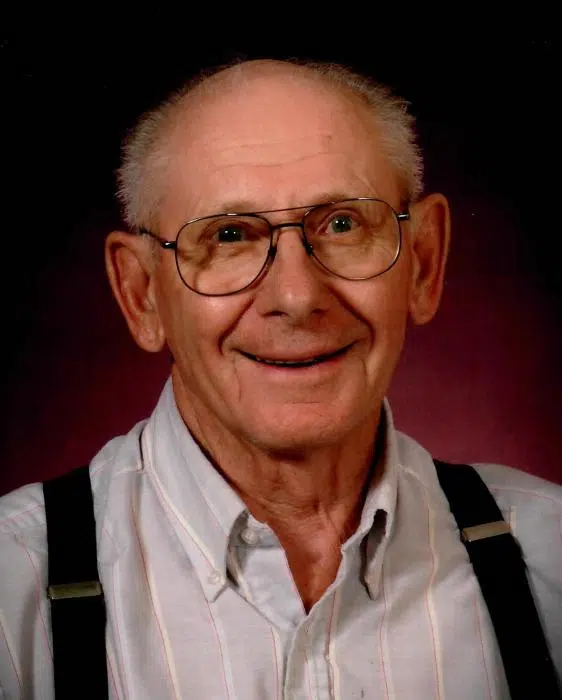 Roger L. Gensler, age 84 of the Town of Bear Creek, passed away Wednesday morning, October 31, 2018 at his daughter's home in the Town of Royalton.
Roger Lyle Gensler was born on June 17, 1934 in the Town of Bear Creek, son to the late Emil & Elsie (Schoenheide) Gensler. He grew up on his family's dairy farm, attended Elmdale School, and graduated from Clintonville High School in 1952. Roger was united in marriage to June Sasse on September 21st, 1957 at Christus Lutheran Church, Clintonville, where he was still a member. He also served his country in the National Guard for almost 10 years; getting called to active duty during the Berlin Crisis with the Red Arrow Division. He worked as a lineman with the telephone company, a tire re-capper, and later for Knitt Lumber in Marion as a carpenter, building and remodeling homes before he went out on his own as an independent carpenter. Roger later worked for Simmons in New London and retired in the mid 1980's. During his retirement, Roger kept busy doing custom lumber-sawing, making maple syrup with his brothers and friends, and restoring and operating antique John Deere tractors. He was a member of the Fox Valley Two Cylinder Club. He loved hunting, camping, and fishing, especially trout-fishing in his younger years. Roger always looked forward to Saturday morning breakfasts and going to auctions with his close friends and polka music could be heard through his house on Sunday mornings. He also enjoyed attending his grandchildren's sporting events, and became quite the Wisconsin Badger fan when his grandchildren attended college in Madison. He will be remembered as a man of few words with a sly sense of humor who loved his family dearly.
He is survived by:
Daughter: Robbie (Larry) Miller, New London
Grandchildren: Roger (Chris) Blazek, Christopher Miller, Amanda Miller, Tim (Tirzah) Miller, Tami Miller, & Terry (Melissa) Miller
Great-grandchildren: Rylan & Audrey Blazek; Cody, Tessa, Reid, Alison, & Mackenzie Miller
Sisters-in-law: Tina Gensler & Carol (Ed) Kettner, Brothers-in-law: Bob Sasse & Jerry (Mary) Sasse, nieces, nephews, & close friends.
Roger was preceded in death by his parents; his wife, June; a sister, Leone (Paul) Kobs; brothers, Donald Gensler & Roy (Jeanette) Gensler.
Funeral services will be held 11 AM Monday, November 5, 2018 at Christus Lutheran Church, Clintonville with the Rev. Brian Crocker officiating. Interment will follow at Graceland Cemetery, Clintonville; military honors will be conducted by VFW Post #664, American Legion Post #63, and American Legion Auxiliary Unit #63, all of Clintonville.
Friends may call at the Eberhardt-Stevenson Funeral Home & Crematory, Clintonville on Sunday, November 4, 2018 from 4 – 7 PM and again on Monday at the church from 10 AM until the time of service.
An online guestbook is available at eberhardtstevenson.com.