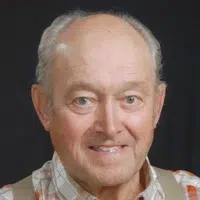 Clarence H. "Tootie" Schneider, age 83 of Cecil, passed peacefully at home with his loving wife and family at his side. He was born on the family farm in the Town of Green Valley on March 4, 1935, the son of the late Clarence G. and Margaret (Hansen) Schneider.  Clarence met his future wife, Barbara Donnelly at a dance at the Shawano County Park and they were united in marriage on May 15, 1954 at St. Martin of Tours Catholic Church in Cecil.  The couple celebrated 64 years of marriage this year.  Clarence and Barb lived and worked on the home farm near White Clay Lake while raising their six children.  In 1996, Clarence retired from farming, at which point he would take his Ranger to regularly check on all the local farmers.  Throughout his life he enjoyed hunting, golfing, bowling, rafting, snowmobiling, collecting antique John Deere Tractors and traveling, especially to Hawaii.  He was a member of the Pulcifer Sportsman Club, Ducks Unlimited, Whitetails Unlimited, Trout Unlimited, Riverside Riders Snowmobile Club, as well as a 57 year member of the neighborhood card club.  He was a member of St. Martin of Tours Catholic Church in Cecil.  Clarence loved life; he planned it, worked for it and enjoyed every minute of it.  He hosted a (BIG) pig roast for his family and friends in September to celebrate being alive while fighting cancer for over eight years.  Clarence's family was the most important part of his life and he loved hosting family holidays, especially Easter egg hunts and Christmas Bingo.
Clarence is survived by: his wife, Barb; six children, Kathrine (Bruce) Zeeman, Paul (Deidra) Schneider, Brian (Deb) Schneider, Amy (Doug) Yakes, Julie (Jeff) Busch and John (Tami) Schneider; 19 grandchildren; 16 great-grandchildren; his in-laws, Arbutus Schneider, Dennis (Margie) Donnelly and Mike (Carmel) Donnelly; as well as numerous nieces, nephews, cousins and friends.
He was preceded in death by: one daughter in infancy, Catherine; one grandson, Greg Thibadeau; his parents; two brothers, Vernon (Bernice) Schneider and Kenneth Schneider; his father-in-law and mother-in-law, Joe and Cele Donnelly; and two sisters-in-law, Jeanne (Roger) Morin and Jo (Ed) Walker.
Funeral services for Clarence will be held at 11:00 am on Friday, November 2, 2018 at St. Martin of Tours Catholic Church in Cecil with Fr. Tom Farrell and Deacon Mike Grzeca officiating. Burial will be in Woodlawn Cemetery.  Visitation will be held from 3:00 – 7:00 pm on Thursday, November 1, 2018 at Swedberg Wendt Funeral Home in Bonduel and again at the church on Friday from 10:00 am until the time of the services.  In lieu of flowers, memorials can be directed to Child's Life at St. Vincent Hospital or to St. Jude Research Hospital.
The family would like to extend a special thank you to Dr. Volk, the staff and valet at Green Bay Oncology and Unity Hospice, especially Michelle and Tina.
 You never had to wonder what he was thinking; he always told you.
Swedberg-Wendt Funeral Home in Bonduel is assisting the family