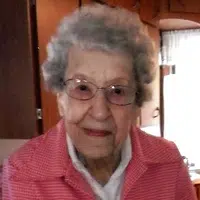 Lorraine L. Raisler, age 95, of Marion passed away suddenly Saturday evening, October 27, 2018 at Kindred Hearts in Clintonville.
The former Lorraine Laura Leona Marquardt was born on November 14, 1922 in the Town of Dupont, Waupaca County, and was the daughter of the late Emil and Martha (Beyersdorf) Marquardt.  She graduated from Marion High School in 1941 and was a lifelong resident of the area.
Lorraine was united in marriage on December 4, 1948 to Donald J. Raisler at Zion Lutheran Parsonage in Appleton.  Lorraine was employed by Dupont Mutual Insurance Company of Marion for sixteen years, retiring in 1957.  Her husband preceded her in death on August 28, 1999 and she has resided in Marion for the past 67 years.
Lorraine was an active member of St. John's Lutheran Church, Marion.  She was also a proud member of the American Legion Auxillary – Unit 198 and the Marion Area Historical Society.
Survivors include numerous nieces, nephews, other relatives and friends.  She was preceded in death by her husband Donald; three sisters Minnie Schachtschneider, Ida Bock, and Viola Radtke; one brother Julius Marquardt; two sisters-in-law Beatrice Knaack, Jeanette Kellogg; and two brothers-in-law Carlton and George Raisler.
Funeral Service will be held on Thursday, November 1st at 11:00 AM at St. John's Lutheran Church, Marion.  Rev. Beth Macha will officiate and burial will follow at Trinity-St. John's Cemetery, Town of Dupont.  Visitation will be held on Thursday from 9:00 AM until time of service at the church.  Beil-Didier Funeral Home, Marion, is assisting with the arrangements.
A special thanks to all the staff at Kindred Hearts for their care and to all others who cared for and visited Lorraine.