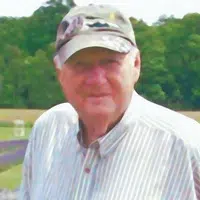 William Warren "Bill" Flauger, age 83 of Gresham, passed away on Wednesday, October 24, 2018 at his home. Born in the Town of Red Springs on October 14, 1935, he was the son of the late Joseph and Minnie (Ross) Flauger.  After school, Bill enlisted in the United States Army, serving his country until his honorable discharge in November of 1962.  William was united in marriage to Glenda Gasser on July 11, 1959 at St. Frances Solanus Catholic Church in Gresham.  He worked at the Shawano-Gresham School District for many years, where he was Superintendent of Building and Grounds.  Bill's family and friends enjoyed his jovial nature.  He was a "do it yourself" kind of guy and enjoyed fishing, yardwork and traveling with his wife.  Bill loved living on the Red River and enjoyed watching nature.
William is survived by: his wife of 59 years, Glenda; their children, Tammie (Dave) Boe of Mosinee and Carolyn (Mark) Scholz of Mosinee; six grandchildren, Erin (Andrew) Knotek, Michael (Brittani) Turpin, Korrina (Chad) Peper, Rachel (Matthew) Peters, Kurtis (Kelsey) Scholz and Luke (Jenna) Scholz; 14 great-grandchildren as well as one on the way.  He is further survived by: his brothers and sister, Daniel (Cindy) Flauger, Jim (Norma) Flauger and Debbie (Bobby) Fiore; brothers-in-law, Jack (Ardeen) Gasser, Roland (JoAnne) Gasser and Dave Tushoski; sisters-in-law, Belva (Merle) Swanson, Lois (Jim) Sippel, Darla Gasser and Marian Gasser; as well as numerous nieces, nephews, other relatives and many friends.
He was preceded in death by his parents and two brothers, Joe, Jr. in infancy and Ervin; his in-laws, Stanley (Delores) Gasser, Archie Gasser, Billy Gasser and Peggy Tusho ski.
A memorial service for Bill will be held at noon on Monday, October 29, 2018 at Swedberg Funeral Home in Gresham with Rev. Lois Graper officiating. Inurnment will be in Zion Rest Cemetery.  Visitation will be held at the funeral home on Monday from 10:00 am until the time of the service.