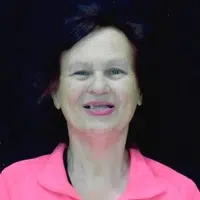 Caroline J. Bessette, age 59, of Clintonville passed away Monday, October 22, 2018 at ThedaCare Regional Medical Center, Neenah.
The former Caroline Joyce Weston was born on October 2, 1959 in Princes Risborough, County of Buckingham, England, to William and Margaret (Green) Weston.  She met Roy H. Bessette while he was stationed at an U.S. Air Force base in England.  The couple was united in marriage on August 4, 1979 in Bicester, England, and she moved to America in 1987.  Caroline was always there for family and friends.  She was a proud homemaker; and a loving mother and grandmother.
Caroline was a member of Family of Christ Church – Assembly of God, Clintonville, and she loved the Lord with all her heart.  She liked attending the community meals and going to the coffee shop in town.  Caroline enjoyed watching the Packers play, going on long walks, and spending time with her children and grandchildren.  She was never afraid to talk with someone that she didn't know.  Caroline also loved talking with her many friends on Facebook.  Her wonderful personality was always kind and gracious which made her easy to love.
Survivors include her husband of 39 years, Roy; and her mother, Margaret Weston of England.  There are four children, Jennifer (friend Chris) Spiering of Oshkosh, Julie (Joel) Patterson of Shawano, Jonathan Bessette of Clintonville, and James (friend Cami) Bessette of Oshkosh.  There are six grandchildren, Trumann, Desiree, Timothy, Kyle, Alexis, Evan, and Mia.  Caroline is further survived by one brother, Arthur Weston of England; many other relatives and friends.  She was preceded in death by her father.
Memorial Service will be held on Saturday, October 27th at 11:00 AM at Family of Christ Church – Assembly of God, Clintonville.  Rev. Steven Devroy and Rev. Richard Vanman will officiate.  Visitation will be held on Saturday from 9:00 AM until time of service at the church.  Beil-Didier Funeral Home, Clintonville, is assisting the family.