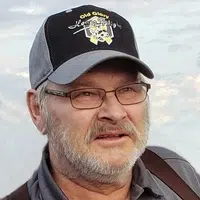 Victor L. Kratzke, age 71, of Shawano, passed away at his home early Thursday morning. Born in Clintonville on June 6, 1947, Victor was a son of the late Vernon W. and Sadie (Werbelow) Kratzke, Sr.  Victor graduated from Clintonville High School and was drafted into the United States Army, where he served his country honorably for two years in Vietnam.  On October 11, 1980, he was united in marriage to Constance Balke at St. Peter's Lutheran Church Pella Opening.  Together they had two daughters.  Victor was very intelligent and loved history, reading every book and watching every show on the topic.  He also enjoyed watching old westerns and Monday night wrestling.  Victor was an avid hunter and loved being outdoors.  He enjoyed riding his Ranger through the woods and his Harley down the roads.  He was recently very happy to have had the opportunity to take the Honor Flight to Washington D.C.  More than anything else, he loved it when his whole family was around.  He was a wonderful husband, father, and grandfather, and will be missed.
Victor is survived by: his wife of 38 years, Connie; two daughters, Julia (Randy) Klein, Jr. of Shawano and Kathryn Renard of Green Bay; five grandchildren, Sam and Zoey Klein, and Weston, Tristen and Maiya Renard; siblings, Sandra Werth, Bonnie Kratzke, Vernon (Betty) Kratzke, Jr., Vilas (Darla) Kratzke, Vernell (Ella) Kratzke, Van Kratzke, Gary (Debbie) Kratzke, and Glen Kratzke. He is further survived by numerous nieces, nephews, other relatives, and many friends.
He was preceded in death by his parents.
A funeral service will be held at 11:00 am on Monday, October 22, 2018 at St. John's Lutheran Church- Hermansfort with Rev. Steve Conradt officiating. Burial will be in the church cemetery.  Visitation will be held at the church on Monday from 9:30 am until the time of the service.
Swedberg Funeral Home and Crematory is assisting the family.