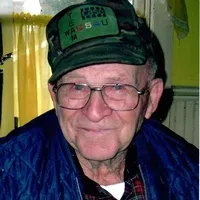 Martin "Mux" Hille, age 94, of Tigerton passed away early Wednesday morning, October 17, 2018 at ThedaCare Regional Medical Center, Appleton.
Martin Harvey Hille was born on All Saints Day on November 1, 1923 in Tigerton to Max and Helen (Glaeser) Hille.  He grew up on the family farm at the edge of Tigerton.  He helped his father run the farm, and also worked for a neighbor as a hired hand for many years.  Martin was united in marriage on July 24, 1954 to Marcella F. Grosskopf at Peace Lutheran Church, Tilleda.  He was the love of her life and the couple was blessed with six children.
Farming was his life's passion and in 1970 the family moved to a larger farm on County Road M just east of Tigerton.  Martin lived the German work ethic and the only time he took off from the farm was for deer hunting season.  The family called him "The Great White Hunter" because of the many big bucks he shot.  Martin spent time in his deer blind until he was 90 years old.  He occasionally went trout fishing with his friend Billy "Bub" Grenz, but after Bub died that ended fishing for Martin.  He also drove bus for the Tigerton School District for over 30 years.
Martin was a longtime member of Zion Lutheran Church, Tigerton, where he had served as a Church Council member.  He also did lawn care for the church for a number of years.  He cooked maple syrup from the trees in his woods and always had a large garden.  Together with his sons, they built a small log cabin on the hill out back behind their home in the woods.
After retiring his son David took over the farm and that's when son Steve and his wife Peggy restored his old MT John Deere tractor as a surprise for dad when he returned home from the hospital from a previous surgery.  Martin still used that tractor for making firewood and plowing snow up until last year.  He gave haircuts to his sons growing up and a few relatives had him "lower their ears" as well.  Martin was the fix-it man in the family and Shoe Goo was his favorite product for many projects!
His greatest joy was the children in his life.  Martin would turn into a big marshmallow whenever any of them were around or if holding a little baby.  He will be remembered most as an honorable and upright gentleman.
Survivors include his wife of 64 years, Marcella; and four children, Sherry (Dan) Hoffmann of Tomahawk, David Hille of Tigerton, Steven (Peggy) Hille of Tigerton, and Marty (Karen) Hille of Mosinee.  There are 10 grandchildren and 8 great grandchildren.  He is further survived by two sisters-in-law, Dorothy Hille of Tigerton and Irene Wohler of Madison; a brother-in-law, Leon Kerstner of Security, CO; many nieces, nephews, other relatives and friends.
Martin is preceded in death by his parents, his father and mother-in-law Herman and Ella Grosskopf, an infant daughter Ramona, a son Jeffery, one sister, three brothers, four sisters-in-law, two brothers-in-law, and two nieces.
Funeral Service will be held on Saturday, October 20th at 11:00 AM at Zion Lutheran Church, Tigerton.  Pastor Sharon Fox-Bogen will officiate and burial will follow at Union Cemetery, Tigerton.  Visitation will be held on Saturday from 9:00 AM until time of service at the church.  Beil-Didier Funeral Home, Tigerton, is assisting with the arrangements.
Our family wishes to thank all the doctors and nurses at ThedaCare Medical Center in Shawano and Appleton for all the compassionate care given to Martin.  We also would like to thank Pastor Sharon for her comforting words and all the prayers for Dad.