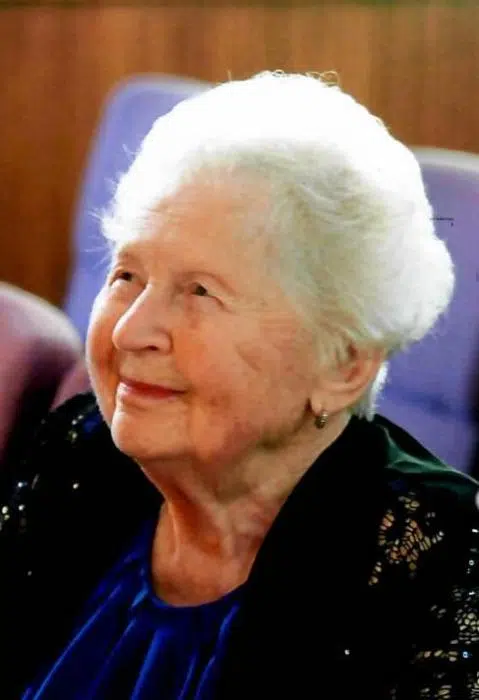 Irene A. Yunk, age 94 of Clintonville, passed away Wednesday, October 17, 2018 at Kindred Hearts Assisted Living Facility, Clintonville.
After celebrating her 94th birthday with her family by her side, Irene was granted her final earthly wish to be with the Lord and her heavenly family for eternity. Irene passed away on Wed. Oct 17th at Kindred Hearts of Clintonville. Irene Adailia Neitzke was born October 5, 1924 to William and Helen (Hoffman) Neitzke in the town of Matteson. On Oct. 16, 1943 she was united in marriage to Norman Conradt. They lived in California while Norman was stationed in the Army. The couple later settled in the Bear Creek area. Together they had three children. Irene helped on the family farm while raising her family. During those years she was also employed at the Hortonville Toy Factory, Hanson Glove, and Greentree Nursing Facility in Clintonville. Grandma will be remembered for her love of fishing. She would never pass up a chance to go fishing and many times this involved being tangled up in a tree or a bush. There was never a fish too small. They were all "keepers." Irene had a very strong faith which saw her through some very difficult times, especially the death of her husband and son and also the tragic loss of her daughter. Through all of this she remained true to her faith in God. This was evident until her death. Irene was the last survivor of the Neitzke/Conradt generation.
Irene is survived by her son Dennis (Gerri) Conradt, Bear Creek and a daughter-in-law, Sandy Conradt, Pickerel. Her grandchildren: Kristin (Nick) Brock, Ryan (Stacey) Conradt, Teresa (Neil) Heimbruch, Ed Berto (special friend Shannon).
Great-grandchildren: Brynnley and Brogan Brock, Devin (Sean) Kanaman, Shandel Heimbruch (special friend Steve Schantner), RT Berto & Baby Conradt. Great great-grandchildren: Wesley, Shelby and Rylie Kanaman.
She was preceded in death by her husband, Norman, her son Ron Conradt and her daughter Debra Conradt Anderson. Her sisters: Viona (Ervin) Klemp, Verna (Bill) Stern, Selma Neitzke and a brother, Ervin (Marina) Neitzke. Also preceding were sisters-in-law: Evelyn Conradt, Dorothy (Gib) Schmidt, Elvira (Harold) Feller; brothers-in-law: Vilas (Marcella), Web (Nora), David (Marlys) and Dan Conradt.
Funeral services will be held 11 AM Saturday, October 20, 2018 at St. Martin Lutheran Church, Clintonville, with the Rev. Brian Weber officiating. Interment will take place at Graceland Cemetery, Clintonville.
Friends may call at the church on Saturday from 10 AM until the time of the service.
The family would like to extend a special thank you to: Doris Camann and Ted Bouchette, the staff at Kindred Hearts of Clintonville, and Compassus Hospice.
The Eberhardt-Stevenson Funeral Home & Crematory, Clintonville is assisting the family.