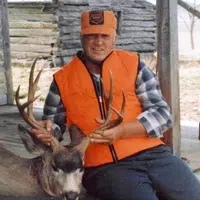 Louis E. Johnson, age 84, of Tigerton passed away Saturday, October 13, 2018 at The Pines Post-Acute Care, Clintonville.
Louis Edward Johnson was born on June 14, 1934 in the Town of Germania, Shawano County, to Oscar and Martha (Polley) Johnson.  He was a lifelong resident of the Tigerton area.  Louie was united in marriage on November 10, 1956 to Barbara J. Kriesel at Zion Lutheran Church, Tigerton.  In his younger years, he drove semi over-the-road and also worked with road construction crews around the Midwest.  For many years Louie logged; owning and operating Johnson Forest Products in Tigerton.  He was always a hard worker and continued to work well into his seventies.
Louie was a member of St. John Lutheran Church, Tigerton.  His favorite pastime was whitetail deer; whether it was raising, feeding, or hunting them.  He made several big game hunting trips out west; and went on fishing trips locally and to Canada.  He liked riding his snowmobile or four-wheeler and simply playing around in his back woods.  Louie was a gun collector, reloaded his own shells, and went to gun shows whenever possible.  He also loved working with the chain saw to cut years of firewood.  Louie and Barb enjoyed listening to polka music and getting together with friends to play cards, especially Smear.  He was an avid Brewers fan and attended a game every summer in Milwaukee.  For many years he enjoyed going on various trips with his camper or RV around Wisconsin and other nearby states.  His wife of 60 years preceded him in death on August 14, 2017.
Survivors include four children; James Johnson of Oconto Falls, Ronald Johnson of Appleton, Donald Johnson of Tigerton, and Susan Brodjieski of Weston.  There are six grandchildren; Angela, Tiffany, Tonya, Jared, Stephanie, and Shannon.  There are three great grandchildren; Skylar, Avery, and Beckett.  There is one sister, Shirley Kutchenriter of Elderon; and three sisters-in-law, Shirley (Mike) Sellner of Tigerton, Marlene Blumreich of Tigerton, and Esther Johnson of Muskego.  He is further survived by many other relatives and friends.  Louie is preceded in death by his parents, his wife Barbara, two sisters Dorothy Erickson and Karen Gutho, and two brothers Eugene and Bill Johnson.
A Graveside Service will be held on Sunday, October 21st at 11:00 AM at Union Cemetery, Tigerton, with Rev. Clifford Kessen officiating.  Beil-Didier Funeral Home, Tigerton, is assisting the family.