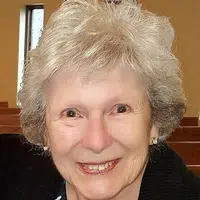 Patricia Mary Morien, 88, passed on to her eternal reward on Saturday, October 13, 2018.  Pat was born in New London WI on March 17, 1930 to Clarence and Rose (Rousseau) Beaudoin.  She was a 1948 graduate of New London Washington High School and worked as a legal secretary for the Frances Werner Law Office until the time of her marriage to William Morien on Feb 15, 1950.
Pat loved to sing and was a member of her church choir throughout her life.  She enjoyed dancing, golfing and playing cards, especially Bridge.  Pat was a devout Catholic and a natural caretaker.  As a housewife and mother of 9 children, she somehow found time to volunteer delivering Meals on Wheels, perform as a Eucharistic Minister and working at the polls every election.
Pat is survived by her loving husband of 68 years, Bill Morien of New London: her children, David – New London, James (Patti) – Weyauwega, Peter (Debbie) – Neenah, Elizabeth (Larry) DeBruin – Neenah, Mary (James) Ciske – Appleton, Patricia (Paul) Johnson – Appleton, Rebecca (Mark) Barnett – Appleton, Jennifer Morien – New London, Joseph (Charlene) – Santa Clarita, CA, and brother-in-law James P.  Morien – The Villages, FL.  She is further survived by 23 grandchildren and 15 great grandchildren.
Pat was preceded in death by her parents and 5 other siblings including her sisters Lucille (Paul) Young and Toby Beaudoin; brothers David (June) Beaudoin, Robert (Belva) Beaudoin and Don Beaudoin.  Pat's mother and father-in-law Phillip and Clara Morien, sister-in-law Phyllis (Dr. Robert) Leitschuh, daughter-in-law Pamela (Mergy) Morien, and infant grandson, Aaron James Morien. Sister-in-law Joan (Laflin) Morien.
The Mass of Christian Burial for Pat will be held on Wednesday, October 17, 2018 at Most Precious Blood Catholic Church at 11:00a.m. in New London with Father John Kleinschmidt officiating.  Family and friends are invited to visit directly at the church Wednesday morning from 9:00 a.m. until the time of Mass.  Burial will be at Floral Hill Cemetery, New London.