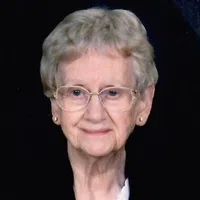 Helene E. Schroeder, age 90, of Tigerton passed away peacefully on Saturday, October 13, 2018 at her home.
The former Helene Eunice Monicke was born on January 20, 1928 in Tigerton to Albert and Paulina (Miller) Monicke.  She was baptized on March 4, 1928 and confirmed on May 29, 1942 at St. John Lutheran Church by Rev. Streck.  Helene grew up on a local farm, attended Hillside School in the country, and graduated from Tigerton High School in 1945.  She was united in marriage on February 2, 1946 to her high school sweetheart, Ralph A. Schroeder, at St. John Church Parsonage in Tigerton.  Helene and Ralph were blessed with three children.  The couple owned and operated Schroeder Oil & Excavating Company, Tigerton, for over 50 years.  Helene helped out with many of her husband's endeavors.  But she was the most proud of being a loving mother and homemaker.
Helene's life revolved around her family, her church, and her community.  She was an active member at St. John parish for so many years; serving with the Alter Guild, volunteering with countless church projects, and singing in the choir for over 53 years.  Helene enjoyed cooking, shopping, and visiting with friends.  Her husband of 66 years preceded her in death on September 28, 2012.
Survivors include her daughter, Judy Schroeder of Tigerton, a son-in-law, Kermit McGinnis of Appleton, and a sister, Anita Schertz of Clintonville.  There are two sisters-in-law, Ruth (Merlin) Much of Tigerton and Edna (Frank) Holmes of Oshkosh.  Helene is further survived by several nieces, nephews, many other relatives and dear friends.  She is preceded in death by her parents, her husband Ralph, a son Ronald, a daughter Gloria McGinnis, and a brother-in-law Duane (Virginia) Schroeder.
Funeral Service will be held on Thursday, October 18th at 11:00 AM at St. John Lutheran Church, Tigerton.  Rev. Dean Suehring will officiate and burial will follow at Union Cemetery, Tigerton.  Visitation will be held on Thursday from 9:00 AM until time of service at the church.  Beil-Didier Funeral Home, Tigerton, is assisting with the arrangements.
A special thanks to all the relatives and friends for the loyal care and compassion shown over the years.  We especially want to extend a thank you to home health care providers Dawn, Hannah, and Sharon for all the love and support given to Mom.