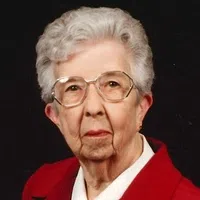 Jean A. Sambs, age 88, of Tigerton passed away Saturday, September 29, 2018 at Marshfield Medical Center.
Jean Ann Sambs was born on February 15, 1930 in Tigerton to Frank and Lena (Westphal) Sambs.  In 1947 she graduated from Tigerton High School and remained a lifelong Tigerton resident.  Jean worked part-time at Gauthier's Red Owl and the Tigerton Library for a short time.  In 1952 she started working in the office at the Tigerton Hospital and Clinic until 1974.  Jean continued her employment at the Tigerton Clinic working in many capacities as secretary, office manager, and administrator until her retirement in 1995.
Jean was an active member of St. Anthony's Catholic Church, Tigerton, where she volunteered on numerous committees and projects.  Jean taught Religious Education, took care of the church environment, cared for the flowers outside and inside of church, currently served on the Worship Committee, and sang in the choir for over 75 years.
Jean was involved and donated lots of time with numerous Tigerton organizations.  She worked with the Girl Scout program for close to 45 years and especially liked being Senior Scout Advisor and taking the troop on overnight camping trips.  Jean was a proud member of the Tigerton Main Street program working with the Design Committee since the very beginning.  She enjoyed helping with activities with the Tigerton Area Historical Society and was Treasurer for many years.  Jean was a member of the ecumenical Tigerton Community Choir.  She will be remembered most for her deep faith in God and always loved helping others.
Survivors include two brothers, Ken Sambs and Chuck (Annette) Sambs, both of Tigerton.  There are three nieces, Mary (Dave) Grishaber of Greenville, Julie (John) Stilp of Winchester, and Denise Dundas of Kokomo, IN.  There is one nephew, Mark (Shelly) Sambs of Antigo.  There are five great nieces and nephews:  Elaine (Jason) Tripp, Anna Grishaber, Treyton Sambs, Sienna Sambs, and Keiden Sambs.  She is further survived by many other relatives and friends.  Jean is preceded in death by her parents, a brother Michael, and a sister-in-law Lillian.
Mass of Christian Burial will be held on Thursday, October 4th at 11:00 AM at St. Anthony's Catholic Church, Tigerton.  Fr. Matthew Settle will officiate and burial will follow at Union Cemetery, Tigerton.  Visitation will be held on Wednesday from 5:00 – 7:00 PM at Beil-Didier Funeral Home, Tigerton, and on Thursday from 10:00 AM until time of mass at the church.
Our family wishes to thank all the doctors and nurses in the critical care unit at Marshfield Medical Center for the wonderful care provided.  We also would like to thank caregiver Nancy Michaelis for the love and compassion given to our sister.