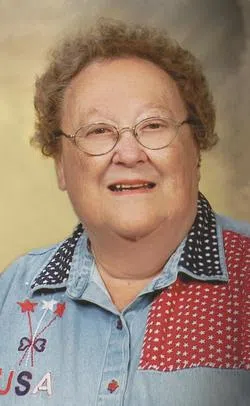 Bonita P. "Bonnie" Soufal, age 81 of Shawano, passed away on Thursday, September 27, 2018 in Shawano. Bonnie was born in Clintonville on March 16, 1937, a daughter of the late Francis and Esther (Koehler) Jozwiak.  On June 8, 1957 Bonita was united in marriage to Patrick John Soufal in Clintonville.  Pat preceded her in death on November 15, 2016.  Bonnie enjoyed watching the Packers, Brewers and Badgers.  She loved putting puzzles together as well as watching the birds and was especially fond of cardinals.  More than anything, Bonnie loved her family.  She showed her love to those dear to her with the "I love you" gesture and the occasional fist bump.
Bonita is survived by: two daughters, Cynthia (Barry) Quattrone of Georgia and Tammy (Lee) Johnson of Shawano; four grandchildren, Christina (Chris) Hopper of Georgia, Jerome Quattrone of Georgia, Ashley Quattrone of Georgia and Hunter Johnson of Shawano; one great-granddaughter, Catelynn and another great-granddaughter on the way; her brother, Thomas Jozwiak of Caroline; her sister, Mary (David) Romberg of Neenah; as well as nieces, nephews, other relatives and friends.
She was preceded in death by her husband, Pat; her parents; and siblings, John, Joe and Margaret.
Funeral Mass will be held at 11:30 am on Thursday, October 4, 2018 at Sacred Heart Catholic Church in Shawano with Rev. Tom Farrell officiating. Burial will be in the church cemetery.  Visitation will be held at the church on Thursday from 10:00 am until the time of the service.
Bonnie's family would like to extend a special thank you to the staff at Evergreen for the wonderful care and all the great games of bingo.