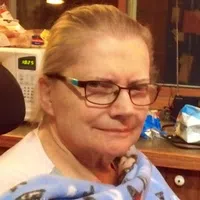 Janice H. Hanson, age 77, of Marion passed away Wednesday, September 26, 2018 at ThedaCare Regional Medical Center, Appleton.
The former Janice Helen Bartholomew was born on March 14, 1941 in Sunbury, PA, to Frank and Fay (Weaver) Bartholomew.  At the age of 12 her father died and then some of the family moved to Wisconsin and lived in the Sparta and La Crosse areas.  Janice was united in marriage on November 24, 1964 to Robert G. Hanson in Sparta.  The couple owned and operated a gas station in the Village of Rockland in eastern La Crosse county from 1970 – 1982.  They operated group homes or CBRF's in Black River Falls, Hayward, Shawano, and New London.  In 1999 Janice and Robert settled in Marion.  They continued to care for folks and operated an Adult Family Home out of their house in Marion.
Janice was a member of Jehovah's Witnesses Kingdom Hall, Clintonville.  She had a strong faith and in her younger years she shared the Bible's good news with lots of individuals.  She enjoyed listening to classic country and folk music.  Janice was always caring for others and will be remembered most for her strong willed personality and her wonderful sense of humor.
Survivors include her husband of 53 years, Robert; and two children Todd Hanson of Green Bay and Amy (John) Dickson of Bonduel.  There are four grandchildren; Michelle Peterson, Anthony DallaSanta, Christian DallaSanta, and Dalton DallaSanta.  There are two great grandchildren, Arianna and Aaden.  She is further survived by two sisters, Rita Ruff of Kentucky and Martha Thacker of Illinois; many other relatives and friends.  Janice is preceded in death by her parents, one sister Shirley, four brothers Frank, Ron, William, and Richard, and an infant half-sister.
Funeral Service will be held on Sunday, September 30th at 3:00 PM at Jehovah's Witnesses Kingdom Hall, Clintonville, with Dean Richter presiding.  Visitation will be held on Sunday from 2:00 PM until time of the service at the kingdom hall.  Beil-Didier Funeral Home, Marion, is assisting the family.
The family wishes to thank all of Janice's caregivers for the love and compassion provided; especially Mary, Tammy, Tamera, Leslie, Barb, and others throughout the years.