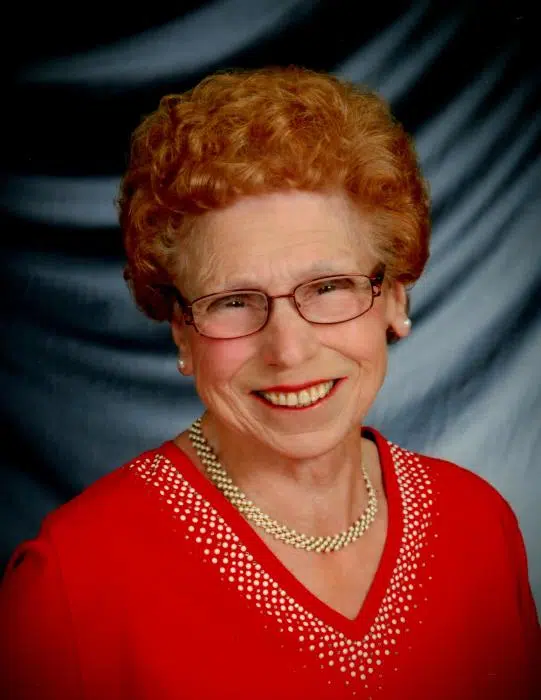 Beverly "Bev" C. Graper, age 84 of the Town of Larrabee, Waupaca County, passed away Sunday morning September 23, 2018 at St. Elizabeth Hospital in Appleton as a result of a stroke suffered over the weekend.
Beverly Carol Defferding was born on June 2, 1934 in the Town of Center Valley as the daughter of the late Lawrence and Laura (Vick) Defferding. She graduated from Seymour High School with the Class of 1952. After high school, Bev worked at the downtown office for AAL (now Thrivent) and made many lifelong friends. She was united in marriage to Hugo Graper on May 18, 1957 at the St. John's Lutheran Church in Center Valley. The couple resided on the Graper family homestead, a century farm, in the Town of Larrabee ever since. Bev was a faithful member of St. Martin Lutheran Church in Clintonville where she volunteered often and loved to help with setup for the Rural Life Sunday services. She was a member of the Waupaca Antique Auto Club, and Clintonville Flower & Garden Club. Bev was a Master Gardener and proudly maintained her son's greenhouse on the farmstead since 1978. She could grow flowers and produce with the best of them and loved to share her harvest with friends and neighbors. Bev and her husband operated a cattle trucking business for Equity Livestock Sales for more than fifty years and enjoyed the social part of the job as well. Recognized as Waupaca County Farm Wife of the Year, Bev operated machinery, did the bookkeeping and handled the details. Bev loved polka music and spent the last 35 years as the Secretary/Treasurer for the Jolly Mixers Dance Club.  Also known for her cooking, Bev was famous for her chocolate chip cookies & apple pie. She had a strong faith in her Lord and will certainly be missed by her family and friends.
Survivors include: Her Husband: Hugo Graper.
Sons: David (Mary Caspers-Graper) Graper & Randy (Lois) Graper.
Granddaughters: Emily & Allison Graper.
A Sister: Ruth Young.
Sisters-in-law: Barbara Graper, Eileen Defferding, & Verna (Dick) Butt.
She was preceded in death by her parents, a son Carl, brothers; Earl & Leon Defferding, and brothers-in-law; Don Graper & Ron Young.
Bev's funeral service will be held Saturday, September 29, 2018 at 11 AM at St. Martin Lutheran Church in Clintonville with Rev. Christian Burg officiating. Interment will follow at Graceland Cemetery also in Clintonville. Friends may call at the church on Saturday from 9 AM until the time of the service. In lieu of flowers a memorial fund will be established for St. Martin Lutheran Church. The Eberhardt-Stevenson Funeral Home & Crematory of Clintonville is assisting her family. www.eberhardtstevenson.com