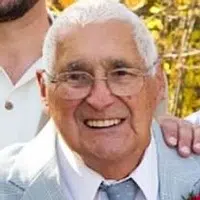 John P. Trombi, age 94 of Tigerton passed away Monday, September 17, 2018 at his daughter's home in Clintonville.
John Paul Trombi was born on October 7, 1923 in Negaunee, Michigan, to John and Elizabeth (Pleau).  He grew up in the Upper Peninsula of Michigan.  John lived for many years in Montreal, Wisconsin, and graduated from Hurley High School.  He went on to technical college earning a degree as an automotive mechanic.  John entered the U.S.  Army and served in WWII from 1943 to 1946 mostly in the Philippines, New Guinea, and Australia.  He was united in marriage in October of 1947 to Shirley Jones and in 1951 she preceded him death.  On December 24, 1952 he married Avis M. Peterson in Hurley.  Avis passed away on July 15, 1999.
John worked for over 20 years as a mechanic at Schroeder Oil Company in Tigerton, retiring in 1998.  He was employed for close to 10 years at Knitt Hardware Store in Marion.  John also was caretaker of Tiger Creek Apartments in Tigerton for a number of years.  He was a true handyman who could fix just about anything; especially fixing lawnmowers, small engines, washers and dryers.  Throughout the years, John stayed active in the community and often volunteered at Tigerton Lumberjack Days.  He enjoyed deer hunting, trout fishing, and cutting firewood.  When it came to electronics John always had to have the newest and best gadgets.  He loved animals and spending time with his grandchildren.  John will be remembered most for his contagious smile and helping out others in need.
John was a longtime member of St. Anthony's Catholic Church where he was active as an Usher and helped out with funeral luncheons.  He was a proud member of the VFW Post #8770 of Big Falls and the American Legion Post #239 of Tigerton.  John also drove for the Tigerton Ambulance Service for many years.
Survivors include two daughters, Darcy Trombi of Appleton and Dawn (Keith) Huebner of Clintonville.  There are 11 grandchildren:  Matthew, Allison, Alicia, Shane, Brenda, Dana, Jennifer, JR, Melissa, Josh, and Ashley.  He is further survived by 16 great grandchildren; one sister Beatrice Weaver of Mesa, AZ; and many other relatives and friends.  John is preceded in death by his parents, first wife Shirley, second wife Avis, a daughter Denise LaCanne, a son David Trombi, three sisters, infant Pauline, Jeanette, and Gen; and two brothers, Arnold and Raymond.
Memorial Service will be held on Saturday, September 29th at 11:00 AM at St. Anthony's Catholic Church, Tigerton.  Military Honors will be provided at the church by members of the American Legion Post #239, Tigerton.  Visitation will be held on Saturday from 10:00 AM until time of service at the church.  Beil-Didier Funeral Home, Tigerton, is assisting the family.