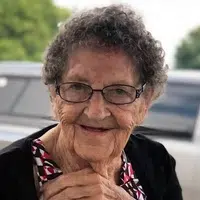 Jeanette I. Polzin, age 96, of Marion (Town of Dupont) passed away Friday, September 21, 2018 at her home.
The former Jeanette Irene Mae Hintz was born on August 13, 1922 in the Town of Lanark, Portage County, to Robert and Lena (Boelter) Hintz.  She grew up and attended school in the Lanark area.  Her family moved to Manawa where she met the love of her life Walter R. Polzin.  Jeanette and Walter were united in marriage on September 6, 1947 at Zion Lutheran Church, Manawa.  The couple lived for a short time in Symco and then moved to Berlin where they dairy farmed for eleven years.  In 1958 they settled on a farm in the Town of Dupont, Waupaca County.  In her early years, Jeanette worked for a short time at Sturm Foods in Manawa.  In the 1970's she was employed for several years at the Hortonville Toy Factory.  But helping her husband on the farm and raising her children was always her greatest achievement.  Her husband preceded her in death on August 1, 1988.  She lived with her son Bobby for close to 15 years and then lived with her children Judy, Jerry, and Daniel for the past 3 years.
Jeanette is a former member of St. Paul's Lutheran Church, Town of Dupont.  She was a great cook and baker; to be more specific her homemade breads, donuts, and dumplings were incredible.  Jeanette always liked animals; especially her horses (Baby and Sheila), deer on the farm, her cats Tweety and Bandit, and her dogs Sparky and Huckleberry.  She was an avid NASCAR fan and her favorite driver was Jimmy Johnson.  Jeanette enjoyed listening to classic country music stars such as Loretta Lynn, working in the vegetable garden, and keeping up with current politics.  Her trips to Alabama, Tennessee, Maryland, North Carolina, and Washington DC created long-lasting wonderful memories.  She also liked filling the "hat book" with pictures of family and friends wearing her black hat.  Jeanette loved sending cards to folks and letters to her pen pal friends.  She will be remembered most as a devoted wife, a loving mother, and a proud grandmother.
Survivors include six children; Judy Polzin of Marion, Larry Polzin of Marion, Robert Polzin of Tigerton, Linda (Jerry) Wegener of Clintonville, Daniel Polzin of Marion, and Bernice (Daniel) Henry of Fremont.  There are 10 grandchildren, 14 great grandchildren, and 3 great-great grandchildren.  She is further survived by many nieces, nephews, other relatives and friends.  Jeanette was preceded in death by her parents, her husband Walter, an infant daughter Barbara, a son Jerry, a great grandson Jonathan Rieck, and eleven siblings.
Funeral Service will be held on Tuesday, September 25th at 11:00 AM at Beil-Didier Funeral Home, Marion.  Pastor Karen Riemer will officiate and burial will follow at Roseland Cemetery, Town of Dupont.  Visitation will be held on Tuesday from 9:00 AM until time of service at the funeral home.