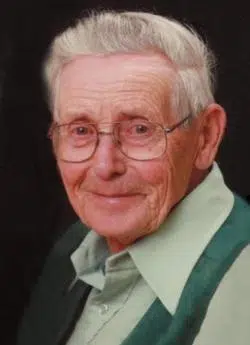 Ervin Herbert Moede, age 91 of Shiocton, passed away on Sunday, September 23, 2018 surrounded by his loving family. Ervin was born on January 4, 1927, in Shiocton, to the late Herbert and Bertha (Harke) Moede.  He graduated from Shiocton High School in 1944.  He served in the United States Army from October 1945, stationed in China, until January 1947, when he was honorably discharged.  Ervin married the love of his life, Maxine Strong, on May 1, 1954 at First Lutheran Church in Shiocton.  This year, they celebrated 64 years of marriage.  Ervin worked at the feed mill for 19 years.  In 1960, he went to work for the Shiocton Grade School, retiring after 31 years.  He was a volunteer fire fighter for the Shiocton Fire Department for 37 years and a member of the Shiocton American Legion Post #512.  He loved to hunt and fish.  Ervin and Maxine took many trips in their motor home with their grandchildren.  They loved fishing and canoeing with their lifelong friends, Ray and Mary Ann Majeski.
Ervin is survived by: his wife, Maxine; children, Terry (Pam) Moede, Cindy Spencer, Ruth (Bruce) Ahrens and Lorri (John Nash) Reeck; grandchildren, Tammy, Candy, Michelle, Justin, Candy, Steve and Miranda; 15 great grandchildren and eight great-great grandchildren; sister, Lorraine; sister and brother-in-law, Delores and John Oberstadt; as well as many nieces, nephews, other relatives and his friends.
He was preceded in death by: his parents, Herbert and Bertha; beloved granddaughter, Cori Lynn Spencer; brother, Donald Moede; brother-in-law, Elroy McNiesh; father and mother-in-law, Dewey and Edna Strong; brother and sisters-in-law, Gerald and Barbara Strong and Luella and Maurice Conlon.
Funeral services will be held at 1:00 pm on Wednesday, September 26, 2018 at First Lutheran Church in Shiocton with Rev. Paul Hinz officiating. Military honors will be conducted by Shiocton American Legion Post #512.  Burial will be in the Town of Maine Cemetery.  Visitation will be held at First Lutheran Church in Shiocton on Wednesday from 11:00 am until the time of the service.
Dad taught us the value of hard work and to take pride in what we do. A kindhearted man who would do anything for his family or anyone in need.  Your silly sense of humor will be greatly missed.  We are truly blessed.