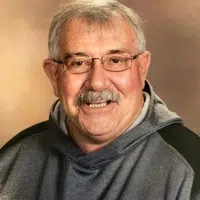 Daniel e. Maus, Age 68, passed away on Saturday, September 22, 2018.  He was born on September 27, 1949 in Shawano son of the late Theodore and Irene (Weeks) Maus.  Dan was united in marriage to Darlene Olmsted on November 13, 1987 at Trinity Lutheran Church in New London, and they were blessed with 30 years together. He served in the US Army during the Vietnam War.  Dan worked at Hillshire Farms (Tyson Foods) in New London for over 30 years retiring in 2006.  He enjoyed mowing the lawn, fishing, hunting, gardening and helping his neighbor June Close.
He is survived by his wife Darlene; children: DeAnn (Shawn) Elliott; Michelle Maus; Ellen Weir; Tara Maus (fiancé, Antonio Salazar; Jason Maus (special friend, Aria Ciano); He was know as Papa Dan to his grandchildren: Alex, Kacy, Jacob, Caleb, Wesley, Conner, Claire, Taylor, Briannah, Jacob, Ethan and Simone; great-grandchildren: Gabriel, William, Lily and Dakota; twin brother, David (Cindy) Maus; sisters, Jane Mogenson and Darlene Maus. Dan is further survived by his brothers and sisters in-laws, Victor (Kim) Olmsted; Donna (Shawn) Blake; Linda (Tom) Kruzicki; Ronald (Sharon) Olmsted and Debra (Brian) Gibbons; numerous nieces, nephews, best friend Otto Knuth, other relatives, friends and his dog Zuko.
He was preceded in death by his parents, a brother Donald, mother and father in-law Audrey and Bob Olmsted, a sister in-law, Julie Partlow and an aunt Eileen.
Funeral services for Dan will be held on Saturday, September 29, 2018 at 11:00 a.m. at Trinity Lutheran Church, New London with Rev. Vicki Fink officiating.  Visitation will be held at the church on Friday September 28, 2018 from 4-7 p.m. and also at the church on Saturday from 9:00 a.m. until the time of service.
Special thank you to David Olmsted for his love and support, oncology staff at ThedaCare and Gold Cross Ambulance staff.