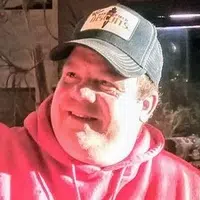 Scott E. Spiegel, age 46, of Tigerton passed away Thursday, September 13, 2018 as a result of an accident at Tigerton Lumber Company.
Scott Everette Spiegel was born on July 25, 1972 in Tigerton to Everette and Barbara (Griepentrog) Spiegel.  He graduated from Tigerton High School in 1991.  Scott worked at the Tigerton Lumber Company for close to ten years.  Then he was employed at Kersten Lumber Company in Birnamwood for several years.  In 2012 he returned to working at the Tigerton mill.
Scott was an active member of Peace Lutheran Church, Split Rock.  He was also a proud member of the Embarrass River Lions Club constructing wheelchair ramps and volunteering at the Caroline Lions Colorama.  Scott enjoyed grilling out, deer hunting, farming, and taking care of animals.  He was an avid Brewers, Packers, NASCAR, and Badger Football fan.  Scott's personality was genuine and he had a heart of gold.  He often helped out family and friends with anything that they needed.  Scott will be remembered most for his wonderful sense of humor and a smile that lit up the room.
Survivors include his father, Everette Spiegel of Tigerton; two brothers, Everette "Beaver" (friend Cindy Holden) Spiegel of Tigerton and Shawn Spiegel of Merrill; two nieces, Trinity and Star; and two nephews, Derrick and Spencer.  There are four uncles, Arden (Judith) Spiegel of Menasha, Lyle Spiegel of Tigerton, Gordon (friend Diana Doty) Spiegel of Tigerton, and Norm (Amy) Spiegel of Oshkosh.  He is further survived by many cousins, other relatives and friends.  Scott is preceded in death by his mother Barbara.
Funeral Service will be held on Monday, September 17th at 12:00 Noon at Peace Lutheran Church, Split Rock.  Rev. Craig Nehring will officiate and burial will follow at Union Cemetery, Tigerton.  Visitation will be held on Monday from 9:00 AM until time of service at the church.  Beil-Didier Funeral Home, Tigerton, is assisting the family.