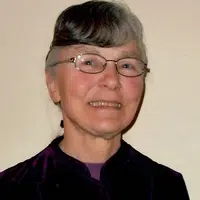 Luella L. Parker, age 74, of Tigerton passed away Friday, September 7, 2018 at Ascension St. Clares's Hospital, Weston.
The former Luella Louise Domke was born on June 23, 1944 in Marshfield to Rev. Leonard and Ingeburg (Gamb) Domke.  She attended Tigerton High School and later graduated from Oconto High School.  Luella was united in marriage on March 9, 1963 to Wallace L. Wendt in Oconto.  The couple dairy farmed for many years in the Town of Fairbanks, Shawano County.  Luella was the bookkeeper for the farm but was most proud of home schooling her children.  Her husband Wallace preceded her in death on November 29, 1987.  On October 14, 1995 she was married to Lyle "Bud" Parker in Manawa.  Luella and Bud lived in Tigerton and they enjoyed many years together.
One of her favorite memories was spending time with family at the cottage up north in Gleason.  She liked being outdoors; especially for deer or turkey hunting.  Luella always had a large vegetable garden and canned many things as well.  Her homemade meals were always the best.  Thanksgiving was Luella's special time of year and she would cook a large turkey with stuffing and all the fixings.  More recently she enjoyed grocery shopping trips with her sister-in-law and eating lunch in the car.  Luella was an active member of Calvary Apostolic Church, Clintonville; where she served on the prayer team, helped in the nursery and with Sunday school.  She had a strong faith and was always seeking the Lord.  Luella was a down to earth woman with a caring heart for everyone, and especially loved her children and grandchildren.
Survivors include her husband Lyle "Bud"; four children, Karen (Mark) Frank of Arlington, Kevin (Debbie) Wendt of Tigerton, Lynae (Jack) Wudstrack of Tigerton, and Debra (Daryl) Stuhr of Marion; and two step-sons, Daniel (Patti) Parker of Menasha and Timothy (Sandra) Parker of Appleton.  There are ten grandchildren, Leah (Matthew) Kaltenberg, James Frank, Melissa Frank, Matthew Frank, Emily (fiancé Jay Bloecher) Wendt, Kyle Wendt, Tyler Wudstrack, Brandon Wudstrack, Devin (Jen) Stuhr, and Darin Stuhr.  There are five step-grandchildren, Ashley (Robert) Stevens, Justin Parker, Kayla (fiancé Brandon Ogden) Parker, Camille Parker, and Casey Parker.  There is a great granddaughter Everly Kaltenberg and a step-great grandson Luke Stevens.  There are three siblings, CarolAnn Lippert of Elkhorn, Kenneth (Remy) Domke of Vallejo, CA, and DonnaMae (Oliver) Burrows of Schofield.  There are three in-laws, Allen Wendt of Tennessee, Delbert (Sandra) Wendt of Kenosha, and Sandra Mattner of Tigerton.  She is further survived by many nieces, nephews, other relatives and friends.
Luella is preceded in death by her parents, her first husband Wallace, step-son Dave Parker, step-grandson Jamison Parker, sister-in-law MaryAnn Wendt, and brother-in-law Walter Mattner.
Funeral Service will be on Sunday, September 16th at 1:00 PM at Beil-Didier Funeral Home, Clintonville, with Rev. Patrick Kloehn officiating.  Burial will follow at Peace Lutheran Cemetery, Split Rock.  Visitation will be on Sunday from 11:00 AM until time of service at the funeral home.