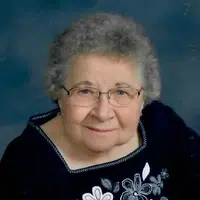 Balbina H. Presl, age 99, of Tigerton died peacefully at Mount View Care Center in Wausau on Thursday, September 6, 2018 and went to see the Lord in her heavenly home.
The former Balbina Hedwig Budzynski was born on October 15, 1918 in Hatley to Ignatius and Mary (Karch) Budzynski.  Balbina's grandparents immigrated from Poland and there were 10 children in her family.  Balbina attended Hatley Grade School starting at age four and graduated from Wausau Senior High.  She attended Marathon County Normal School for two years to receive her teaching certificate.  Balbina taught in one room country schools in the Custer and Shantytown area boarding with rural families.
Balbina was united in marriage on June 4, 1940 to James Presl at St. Florian's Church in Hatley.  She met Jim at a masquerade dance at the Hatley Hotel.  They lived in Tigerton where they owned and operated a grocery store for over 25 years.  Later, she worked in the office at the Tigerton Lumber Company for about 20 years.
The couple raised a family of four children:  Mary (Frank) Spolar of Appleton, Rita (Arnie) Klos of Kronenwetter, Roger (Kathy) Presl of North Manchester, IN, and Ronald (Phyllis) Presl of Merrill.  There are five grandchildren:  Mark (Kris) Klos, Kathy Klos, Nikki (Mark) Donathan, Jason Presl, and Kelsy (Krystal) Presl.  There are six great grandchildren:  Luke Donathan, Alexa Donathan, Michael Klos, Jack Klos, Korbin Presl, and Khaleesi Presl.  She is further survived by her sister Maxine Stypa of Hales Corners; plus many nieces, nephews, and one cousin.
Balbina was preceded in death by her parents; her husband Jim in 1972; a daughter Mary in 2011; and a grandson Steve Klos in 2005.  She is further preceded in death by siblings and in-laws:  Eulalia Budzynski, Anna (Joe) Zoromski, Stanley Budzynski, Benedict (Elizabeth) Budzynski, Ambrose (Evelyn) Budzynski, Regina Roth, Elizabeth Engel, Joseph (Maxine) Budzynski, and Hank Stypa.
Balbina was very devoted to her Catholic faith and prayed the rosary daily.  She was a longtime active member of St. Anthony's Catholic Church, Tigerton, where she volunteered as an officer with the PCCW.  She also served as an officer at the Tigerton Senior Center for many years.
Her interests included playing cards, bingo, board games, and doing puzzle books.  She loved going to polka dances and church picnics; and was an excellent cook.  Balbina enjoyed her trips to Hawaii, Europe, and other places in the United States.  She also liked watching the Packers and the Brewers.
Mass of Christian Burial will be held on Saturday, September 15th at 11:00 AM at St. Anthony's Catholic Church, Tigerton.  Fr. Matthew Settle will officiate and burial will follow at Union Cemetery, Tigerton.  Friends may call on Saturday from 10:00 AM until time of service at the church.  Beil-Didier Funeral Home, Tigerton, is assisting the family.
For the past ten years, Balbina lived in Wausau at Riverview Terrace, Mountain Terrace, and at Mount View Care Center.  We wish to thank all the nurses and staff that gave Mom such wonderful care for these years.