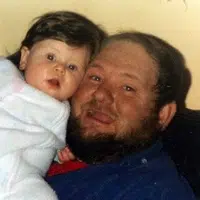 Mitchell B. Mauritz, age 62, of Tigerton passed away Sunday evening, August 26, 2018 at ThedaCare Regional Medical Center, Appleton.
Mitchell Bruce Mauritz was born on November 14, 1955 in Tigerton to Raymond and Laura (Low) Mauritz.  He graduated from Tigerton High School in 1975 and was a lifelong resident.  Mitch was united in marriage on December 1, 1979 to Connie A. Tody at St. Mary's Catholic Church, Marion.  After high school, Mitch drove log truck for Tigerton Lumber Company until 1987.  Then he worked a few years as a heavy equipment operator with VP & J Excavating, Clintonville.  In 1990 he started "Mitch's Tire & Excavating" in Tigerton which he owned and operated until 1999.  Back in 1985 he began digging graves at Union Cemetery as an independent contractor.  In 2000 he became a full-time employee with the Village of Tigerton, until his retirement in June of 2016.
Mitch was a longtime parishioner of St. Anthony's Catholic Church and is a former member of the finance council.  He also served as Constable for the Town of Fairbanks, Shawano County, for some time.  For close to 35 years Mitch volunteered at Tigerton Lumberjack Days roasting the corn.  His favorite pastime was going on train rides, watching train videos, and checking out train museums.  He enjoyed the campfires at their home and especially loved spending time with his family and his German Shepherd Lucy.
Survivors include his wife of 38 years, Connie; and a daughter, Savannah (friend Dustin Urban) Mauritz of Marion.  There are three siblings, Jack (Julie) Mauritz of Tigerton, Michael Mauritz of Shawano, Janice (Thomas) Knaup of Tigerton; and one sister-in-law, Frieda Mauritz of Tigerton.  There are four sisters-in-law, Kay (Richard) Miller of Waupaca, Shirley Boyette of Crivitz, Susie Schutt of Texas, Mary (Michael) Arndt of Marion; and two brothers-in-law, Pat (Laura) Tody and Rick (Kathy) Tody, both of Clintonville.  Mitch is further survived by many other relatives and friends.  He was preceded in death by his parents, a brother Raymond Jr., and his father and mother-in-law Steven and Alice Tody.
Funeral Service will be held on Thursday, August 30th at 11:00 AM at St. Anthony's Catholic Church, Tigerton.  Deacon Michael Brandt will officiate and burial will follow at Union Cemetery, Tigerton.  Friends may call on Wednesday from 4:00 – 7:00 PM at Beil-Didier Funeral Home, Tigerton, and on Thursday from 10:00 AM until time of service at the church.  The family has requested casual dress attire for the funeral.