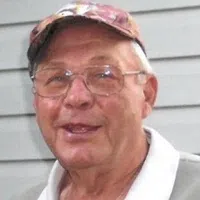 Theodore "Ray" Balthazor, age 83 of New London, passed away on Wednesday, August 22, 2018 at ThedaCare in Neenah after a short illness.  Ray was born on February 19, 1935 in Bear Creek to the late Bill and Leona Balthazor. He was united in marriage to Shirley Anvelink on June 8, 1963.  Ray was employed at Bordens/Saputo in New London and retired after 40 years. He was a board supervisor for 40 years for the Town of Maple Creek and was a volunteer for the New London Fire Department for 10 years. Ray enjoyed hunting, fishing, going to flea markets, doing yard work and collecting old cars.  He loved attending the Iola Car Show.  He especially enjoyed spending time with his family and friends.
Ray is survived by his wife, Shirley; daughter, Sue (Jim) Stern, New London; grandchildren, Jessica (Derek) Jablonicky, Green Bay and Meagan (Matt) Skarzynski, Shawano; great-grandson, Mason and brother-in-law, Terry (Julie) Anvelink, Navarino.
Ray was preceded in death by his parents, Bill and Leona Balthazor; son, Kevin and siblings, Lorraine (Lenard) Lowney, Joyce Balthazor and Loyes (Mary) Balthazor.
A Mass of Christian Burial for Ray will be held at 11:00 a.m. on Saturday, August 25, 2018 at St. Denis Catholic Church in Shiocton.  Fr. Jack Mullarkey will be officiating.  Visitation will be held at the church from 9:00 a.m. until the time of the service.  Burial will be in St. Mary's Catholic Cemetery, Bear Creek.