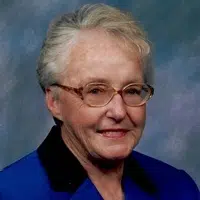 Marie E. Ferg, age 87, of Clintonville passed away on Thursday, August 16, 2018 at St. Joseph Residence, New London.
The former Marie Ellen Chellew was born on May 23, 1931 in Marshfield, Wood County, Wisconsin, to Rev. William and Ida (Wuench) Chellew.  At around the age of eleven, her family moved to Gresham where she attended Lutheran Grade School.  Marie graduated from Milwaukee Lutheran High School and then went on to Concordia Teachers College, River Forest, Illinois.  On November 25, 1950 she united in marriage to Roy T. Ferg Sr. in the Town of Red Springs, Shawano County, Wisconsin.  Marie was employed with the U.S. Post Office for close to 25 years, retiring in the early 1990's.  She was the first female full-time letter carrier in the State of Wisconsin.  Her husband preceded her in death on July 22, 1997.
Marie was a longtime member at St. Martin Lutheran Church, Clintonville, where she was active with the Ladies Aid and Lutheran Women Mission League.  She also taught Sunday School and helped with Vacation Bible School for many years.  Marie liked fishing and sharing stories about the big ones.  She enjoyed walking with her best friend Eva, volunteering at church, playing cards, and completing word find puzzles.  Marie especially loved playing games with her grandkids and taking part in family picnics and reunions.
Survivors include Orville Noak of Clintonville who was a dear friend and her angel for so many years.  There are four children:  Roy (Donna) Ferg Jr. of Neenah, Louise (Charles) Behnke of Apache Junction, AZ, Ruth (Judy Hager) Ferg of Sheboygan Falls, and David (Bonnie) Ferg of Clintonville.  There are nine grandchildren:  Angela (Mickey) Thompson, William Ferg, James (Mandy) Ferg, Rachel (Chad) Gruetzmacher, Kevin Behnke, Michael Behnke, Stacy (John) Wilbee, Corey Ferg, and Shannon (Emily) Ferg; and numerous great grandchildren.  There are six siblings:  Lowell Chellew, Robert (Ella) Chellew, Dorothy (Rev. Keith) Brutlag, Valetta (Lyle) Schaible, Rev. Helen (Rev. Roger) Harms, and Carol Chellew.  She is further survived by a brother-in-law Rev. John Hannah; sister-in-law Joyce Chellew; and many nieces, nephews, other relatives and friends.
Marie is preceded in death by her parents, her husband Roy; a great granddaughter Savannah Thompson; two sisters Janet Loomis and Lorna Hannah; and two brothers Rev. William and Richard Chellew.
Funeral Service will be held on Saturday, August 25th at 11:00 AM at St. Martin Lutheran Church, Clintonville.  Rev. John Hannah and Rev. Brian Weber will officiate and burial will follow in the parish cemetery.  Friends may call on Saturday from 9:00 AM until time of service at the church.  Beil-Didier Funeral Home, Clintonville, is assisting the family.