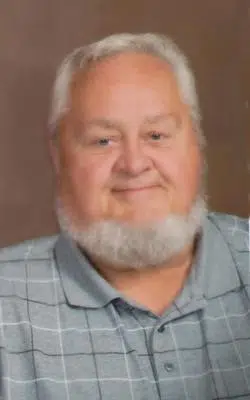 Ned Carl Fritz, age 68 of Shawano, passed away Wednesday, August 15, 2018 at home. He was born January 24, 1950 in Shawano to the late Lloyd 'Bud' and Erma (Mueller) Fritz.  Ned attended Bowler High School.  On August 16, 1969, he married Patricia 'Pat' Schafberger at Sacred Heart Catholic Church in Shawano.  Together they had two sons, Rodney and Jeffery.
Ned worked for 25 years at the Phenix Manufacturing Building until they closed their doors. He then worked in plant operations at Shawano Medical Center until his retirement in December of 2013.  Ned had many interests and hobbies and there was not one special season of the year he did not enjoy.  During the winter months, he enjoyed ice fishing.  In November and December he loved playing Santa and watching the children's faces light up.  In the spring, summer and fall, once again he could be found fishing, tending to his gardens, hunting or attending car shows with his 1930 and 1936 Street Rod.  Fall was especially busy for Ned, one of his favorite hobbies was making sausage and jerky, smoking fish, venison hams and turkey.  He was very proud to share his recipes and give instruction or advice to other enthusiasts.
Ned's family and friends were very special to him and were always welcome. He usually had a new recipe or food to share when they stopped.  You probably had to listen to him 'brag' about the hunting skills of his grandchildren, Sam and Hatty.  He was so proud that his two sons, two of his grandchildren and himself all shot their first buck on the Fritz land near Weasel Dam.  He had each of their first buck heads mounted, no matter the size or number of points it had.
Ned is survived by his wife of 49 years, Pat; two sons, Rodney (special friend, Lisa Krueger) and Jeffery (Wendy); three grandchildren, Austin, Samuel and Hatty Fritz; one sister, Fern (Wayne) Fritz of Stratford; and two sisters-in-law, Rose Paiser and Carol (Dan) Perra.
He was preceded in death by his parents.
A funeral mass for Ned will be held at 11:30 am on Monday, August 20, 2018 at Sacred Heart Catholic Church in Shawano with Father David Schmidt officiating. Inurnment will be in the church cemetery.  Visitation will be held on Monday at the church from 9:00 am until the time of the service.  Swedberg Funeral Home is assisting the family with the arrangements.
The family would like to extend a special thank you to all the friends who stopped to visit over the past several months.