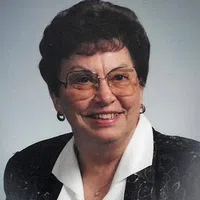 Ruth Iris Reifsteck, of Grand Chute, formerly of New London, passed away peacefully on Sunday, August 12, 2018 at the age of 91.  Born on July 30, 1927 in Jackson, Minnesota, Ruth was the daughter of the late Paul and Jeanette Hartman of Alfa, MN.  Ruth met and married the love of her life, husband William Donald Reifsteck from Blue Earth, MN.  Together they loved and lived as though their time would last forever. And so it has.  Ruth had a passion for people and gave back to the New London Community through her work as a 4th grade teacher at Lincoln Elementary, shepherding countless classes of young people through their formative years.  To her, teaching brought the greatest of joys and rewards.  Ruth's personal talents ran quite deep.  An accomplished musician and artist, she not only has a lifetime of music in her heart, she was also blessed with an eye for beauty and hands that could recreate the wondrous things she saw in most any artistic medium.  In her later life, Ruth studied, practiced and became a master woodcarver and relished the many carving shows and workshops, rubbing elbows with fellow artisans.  Ruth appreciated everyone she ever met.  You couldn't be in her presence without feeling the loving life force contained within her and that she shared freely.
Ruth is survived by her three sons, Terry (Leslie) Reifsteck, Crozet, VA, Randy Reifsteck, Grand Chute and Mike (Linda) Reifsteck, Sag Harbor, NY; grandchildren, Cody, Lauren, Anna, Christian and Amanda Reifsteck; and her sister, Karen (Robert) Walker, Janesville, WI.
Ruth was preceded in death by her parents, Paul and Jeanette Hartman; her beloved husband, William Reifsteck and 3 sisters, Florence Barotolmei, Dolores Gaiser and Verna Wolford.
The funeral service for Ruth will be held at 11:00 a.m. at The United Methodist Church (709 W. Pine St.) in New London on Thursday, August 16, 2018.  Visitation will take place from 9:00 a.m. until the time of the service at the church.  Rev. Joyce Rich will be officiating.  Burial will be in Floral Hill Cemetery, New London.
The family wishes to extend a very special thank you to Brewster Village in Grand Chute for taking such good care of Ruth during the time she was with you.