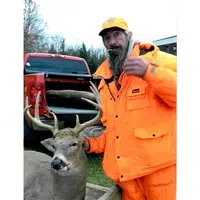 Jerry W. Polzin, age 68, of Marion (Town of Dupont) passed away Sunday, July 29, 2018 at his home.
Jerry Walter Polzin was born on December 11, 1949 in Berlin, Wisconsin, to Walter and Jeanette (Hintz) Polzin.  At the age of nine his family moved and settled on a dairy farm in the Town of Dupont, Waupaca County.  Jerry was a lifelong farmer working for many years on the family farm and then he was employed at a neighbor's farm as well.
Jerry especially enjoyed being outdoors fishing or hunting.  Deer hunting with either the gun or the bow was his favorite pastime.  Jerry always loved animals whether it was raising rabbits and horses or the companionship of his dogs or cats.  He also liked listening to polka or old country music.  Jerry's personality was straight forward and he was easy to talk to.  He often helped out family and friends with all sorts of projects.
Survivors include his mother, Jeanette Polzin of Marion; and six siblings, Judy Polzin of Marion, Larry Polzin of Marion, Robert Polzin of Tigerton, Linda (Jerry) Wegner of Clintonville, Daniel Polzin of Marion, and Bernice (Daniel) Henry of Weyauwega.  He is further survived by many nieces, nephews, other relatives and friends.  Jerry is preceded in death by his father Walter and an infant sister Barbara.
Memorial Service will be held on Friday, August 17th at 7:00 PM at Beil-Didier Funeral Home, Marion, with Pastor Karen Riemer officiating.  Inurnment will be at Roseland Cemetery, Town of Dupont.  Friends may call on Friday from 4:00 PM until time of service at the funeral home.