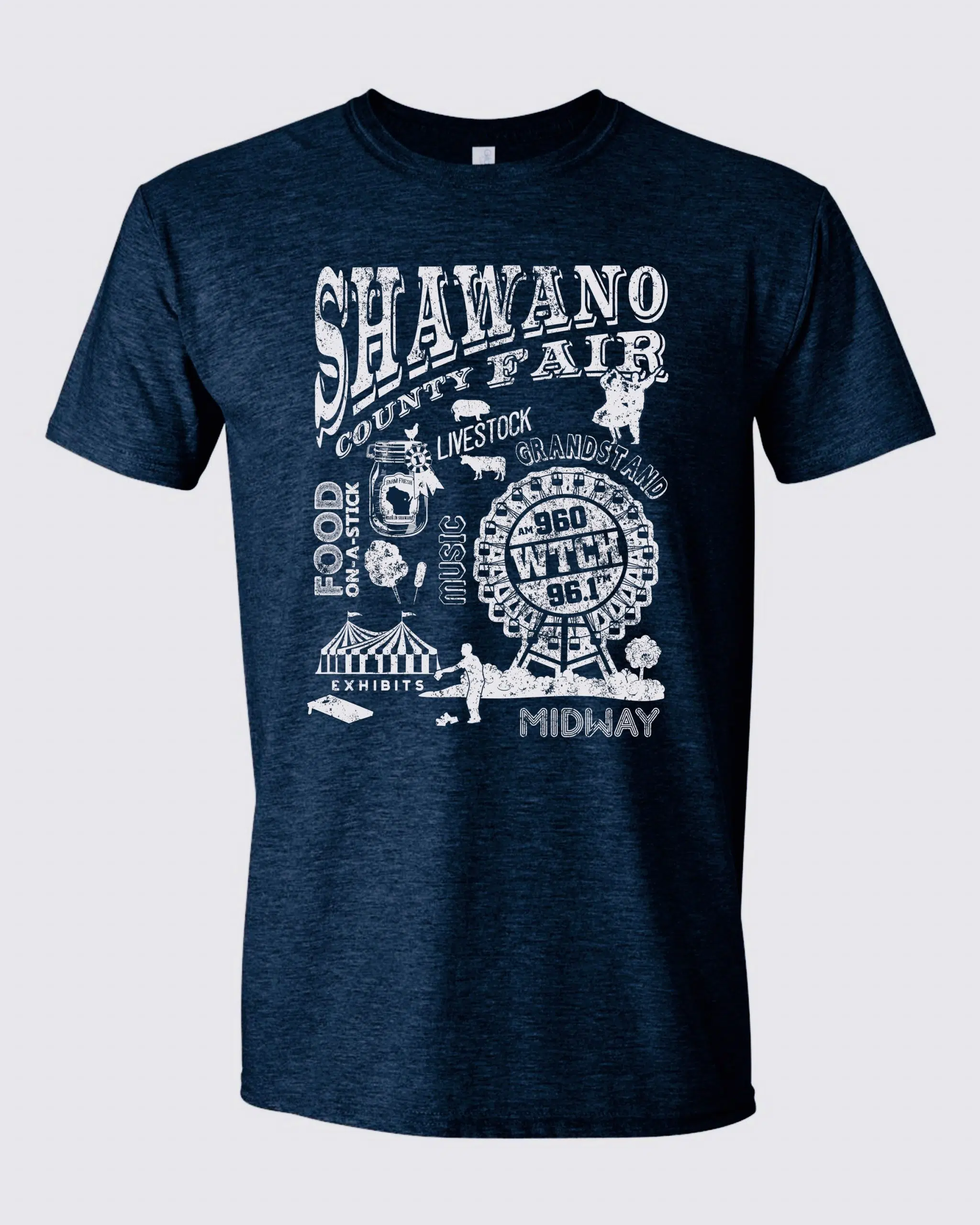 Wear it and Win Giveaway Schedule 
Thursday August 23rd 5 PM at Torchlite – Shawano
Friday August 24th 11 AM at Greenstone Farm Credit Services – Clintonville
Friday August 24th 12:30 PM at Tadych's Econo Foods – Clintonville
Friday August 24th 4 PM at Big Time Sports Bar – Shawano
Friday August 24th 5:30 PM at Jeff and Tammy's Lighthouse – Shawano
Saturday August 25th 10 AM at Old Glory Candy– Shawano
Saturday August 25th 12 PM at Anew Emporium – Shawano
Sunday August 26th 11:30 AM at the Main Event – Cecil
*** NEW Registration style this year.  Come by and REGISTER.  10 people will be drawn 30 minutes into the T-Shirt Stop.  MUST be present to get your shirt!  Must be 18 to play.
Wear your shirt to the Shawano County Fair and on Sunday September 2nd 10 lucky T-Shirt wearers will win $100!
*** NEW Last Chance Key Word Hunt.
DETAILS: Stop in at WTCH on Monday August 27th through Wednesday August 29th at 11 AM, and grab a Key Phrase Hunt card. Stop in at 3 Sponsored locations and ask for their Key Phrase.  Fill out your card and bring it back in 3 days for a T-Shirt.
Limited supply!  When we are out of hunt cards, we're out!!!
Last Chance Key Phrase Hunt
T-Shirt Stop Sponsor Locations – Watch Business Hours
Old Glory Candy – Shawano
Big Guns (office) – Clintonville
Clintonville Motors (service desk) – Clintonville
Dearco – Shawano
Twigs Sundrop Museum (the store) – Shawano
Little Star Convenience Store – Bowler
Charlie's County Market (service counter) – Shawano
Torchlite – Shawano
Greenstone Farm Credit Services – Clintonville
Tadych's Econo Foods (service counter) – Clintonville
Big Time Sports Bar – Shawano
Jeff and Tammy's Lighthouse – Shawano
Anew Emporium – Shawano
The Main Event – Cecil