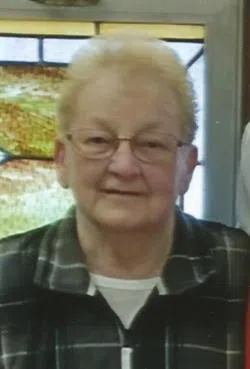 Judy Hohn, age 76 of Bonduel, passed away on August 5, 2018 in Shawano. She was born on March 30, 1942 in Chicago, IL, the daughter of the late John and Mina (Hansen) Hylander.  As a young girl, she lived in Shawano, but her family later moved to Appleton, where she graduated from high school.  Judy often spent time with cousins around the Gresham and Wittenberg area.  On October 7, 1961, she married Duane Hohn at St. James Lutheran Church in Shawano.  Duane preceded her in death on April 11, 2002.  The couple made their home in Bonduel, where she spent the last 50 years.  Judy and her husband enjoyed many years at their 'get away trailer' up north near Mountain, WI.  While raising her family, Judy worked part-time at the Equity Livestock Cattle barns in Bonduel.  She later left her job to take care of her grandchildren and great-grandchildren for the past 30 years.  She enjoyed feeding the birds and squirrels as well as planting her begonias and impatiens every spring.  Judy liked to read and could spend hours putting together jigsaw puzzles.  She was very crafty, enjoyed sewing and leaves behind many beautiful handmade items for her family to treasure.  Judy was a quiet and private person, but touched the heart of those she came in contact with throughout her years.  Judy was a member of St. Paul Lutheran Church in Bonduel and will be missed by those who knew and loved her.
Judy is survived by: two daughters, Chris (Dan) Frappy of Bonduel and Cheryl (Dave) Marquette of Cecil; five grandchildren, Joshua (Tara) Frappy, Joey (Fiancée, Katie Timm) Frappy, Amber (Bob) Ritter, Jeremy (special friend, Ashley Stark) Brown and Nicole Marquette; five great-grandchildren, Stephanie Frappy, Adalyn Frappy, Jack Frappy, Ireland Frappy and Nathan Waupekenay as well as one on the way.
She was preceded in death by her husband, Duane; her parents, John Hylander and Mina and Clarence Miller; her sister, Carole Brunner; one brother-in-law, Roger Hohn; and one sister-in-law, Germaine Hohn.
Funeral services for Judy will be held at 11:00 am on Thursday, August 9, 2018 at St. Paul Lutheran Church in Bonduel with Rev. Mark Palmer officiating. Burial will be in Elias Lutheran Church Cemetery in Gresham.  Visitation will be held on Wednesday, August 8, 2018 from 4:00 – 7:00 pm at Swedberg Wendt Funeral Home in Bonduel and again at the church on Thursday from 10:00 am until the time of the service.