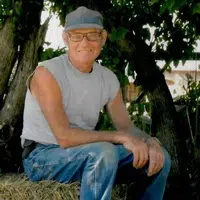 Love came down and rescued Bill Henselin, age 70, on July 18, 2018. William Charles Henselin was born on July 31, 1947 at Shawano Hospital to Fred and Edna (Genskow) Henselin. Bill grew up in the Town of Grant, Shawano County area and graduated from Marion High School in 1966. Bill was united in marriage on October 27, 1973 to Carol J. Roth at St. Paul Lutheran Church, Birnamwood. He farmed with his brother, John, on the family homestead for many years.
Bill was a member of Zion Lutheran Church, Caroline. He loved to make everyone laugh and had nicknames and phrases for most people and situations. ​Bill could be found working hard on the farm, baling hay, tending to his "beefers" at the back farm, cutting firewood, polka dancing, and giving to others.
Survivors include his wife of 44 years, Carol, and three daughters: Liz (Richie) Reissman, Missy (Luke) Laatsch, and Jenny Henselin all of Tigerton. There are two granddaughters, Lauren and Kristen Reissman. There are four siblings: John (Roseann) Henselin of Tigerton, Dave (Karen) Henselin of Marion, Debbie (Walley) Pingel of Clintonville, Jill Henselin of Appleton (special friend Bob Odrowski), and brother-in-law Rev. Jerry Crow of Minnesota. He is further survived by his father and mother-in-law, Jackson and Irene Roth of Eland, and numerous relatives and friends. Bill is preceded in death by his parents and a sister, Darlene Crow.
The family is grateful to ARC Angels Senior Home Care and ThedaCare Hospice.  Thank you to all of those who provided love, strength, prayers, and support that we so often channeled from your hearts to ours throughout this journey. Love found a way. In lieu of flowers, donations may be made to the Alzheimer's Association.
Memorial Service will be held on Sunday, July 22nd at 3:00 PM at Beil-Didier Funeral Home, Clintonville. Rev. Jerry Crow will officiate and inurnment will be at a later date at Zion Lutheran Cemetery, Caroline. Family and friends may call on Sunday from 11:30 AM until time of service at the funeral home.