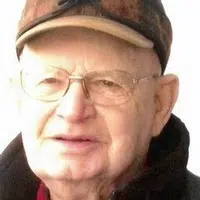 Donald L. Craig passed away on Wednesday, June 13
th
, 2018 at his residence; surrounded by his family, at the age of 82.  Don was born on July 6
th
, 1935 in Green Bay to Stewart and Lois (Eastling) Craig.  He resided in Manawa moving there from Green Bay, when he was 2 years old.  He attended Manawa Public Schools and graduated from Little Wolf High School in 1954.  Don was a gifted athlete and scholar.  In his junior year, he was named Badger Boys State Representative.  He lettered in basketball, football, track and band.  In football, Don was recognized as Most Valuable Player his senior year and also was named to the First Conference Team.  He received the Babe Ruth Sportsman Award for his athleticism.  Don attended Ripon College for 2 years and then joined the US Army, where he was stationed in Louisiana.  After his discharge from the Army, Don returned to Manawa where he met and married Mary Knudsen in 1959. Don had an entrepreneurial spirit and loved all things mechanical.  With his father, Don tested an experimental pickle picker produced by a New York firm on 80 acres of pickles near Manawa for the L.W. Eastling Pickle Company in 1959, which lead to the establishment of Craig Manufacturing in 1960.  Craig Manufacturing started out by producing lime spreaders, milk carts and pickle machines.  The first shop was in the back of the Manawa Laundromat on "main street" in Manawa and employed three people.  The company continued to grow and added camping trailers into the line of products they produced.  With the help of an additional investor, Carl Dretzke, Trade Winds Campers was born in 1961.  Trade Winds Campers would produce 2,000 – 3,000 campers a year and was a recognized brand name in camping equipment.  The camping line was distributed through out the United States, Canada and Japan.  The campers were so popular that one of them was featured on the TV show "The Price Is Right".  By the summer of 1966, the Trade Winds Tiger and Cheetah snowmobiles were added to the line of the tent campers, camping trailers and fishing shanties.  The Cheetah snowmobile was tested on White Lake for speed and was clocked at 100 miles per hour.  The business was so robust that it was sold to Outboard Marine in 1967.  After the sale of the company, Don continued in the camping equipment business selling American Travel Trailers and Friendship Trailers.  Never to remain idle, in 1973 Don and Craig Shambeau began a new camper business.  The campers were called Fliteway Campers and again became a recognized name in the camping equipment arena.  Not only were the campers produced in Manawa, but there was also a branch in Webster, South Dakota.  Northport Motors was Don's next career stop.  A natural born salesman and more importantly, a gifted listener, Don sold hundreds of cars during his tenure with Jerry and Mary Colligan.  He "retired" from Northport Motors more than once, but always came back, until April 2018 when his illness forced him to retire for good.  Don loved nature and being outdoors.  Don traveled to Alaska and Canada many times with his family and friends to fish and hunt.  Always generous with his bounty, it would not be unusual for him to share moose, fish, or venison with his friends.  He participated in many a "Deer Camp" and had fond memories of staying in Vilas County Improvement Camp near Land O Lakes.  In 1990, Don and his son Jeff decided to build a log cabin on the Cisco Chain near Watersmeet, Michigan.  On completion, Don enjoyed fishing and cruising around the chain via pontoon boat, stopping to visit friends at Bents Resort, Cisco Chain Resort and Roger's Bar. Don and Mary also enjoyed their camper at Bear Lake Resort and Campground near Manawa, where they knew just about everyone.  He especially enjoyed Christmas in July and the Halloween festivities held there.  He loved his Packers and was a season ticket holder since 1949.  Don shared his love of the game with his children, their spouses and grandchildren.  Don attended the famous "Ice Bowl" in 1967 and was always generous with distributing his extra tickets amongst his friends.  Civic minded, Don served on the Manawa City Council from 1978-1983.  He was a volunteer fireman and an EMT.  He was also a member on the Manawa Masonic Lodge and the Manawa Lion's Club.  In fact, the Lion's Club float still used in parades was built by him.  Don and Mary were also the driving force in establishing the Little Wolf River Walking Trails.  Don's friends were numerous.  You could not go anywhere without him knowing someone or without him striking up a conversation with a stranger.  His friends were very dear to him and he especially enjoyed spending time at "The Shack" with the Griffins and "advising" Lance Gray on the building of his cottage.
Don is survived by his wife, Mary and his children: John (Sue Erickson) of Tomahawk,  Jeff (Becky) and their children, Katie and Dan of Neenah, Mark (Connie) and their son, Dalton of Manawa and Cathi (Chad) Wegener and their children, Colton, Carissa and Cassidy of Manawa.  He is also survived by Mary's family; Donald (Donna) Knudsen, Manawa and Earl Knudsen of Fritchburg.  Numerous nieces, nephews and cousins also survive.
He was preceded in death by his parents, Stewart and Lois Craig; his mother and father-in-law, Wayne and Evelyn Knudsen, sister and brother-in-law, Jeanette and Volney Meyers and daughter-in-law, Julie Craig.  Gaye Knudsen, his sister-in-law, recently passed away, June 20, 2018.
A Celebration of Don's life will be held on Saturday, July 21st, 2018 at Bear Lake Resort, N4715 Hwy. 22/110 in Manawa, WI from 1:00 – 4:00 p.m.
Memorials in Don's name can be directed to: Little Wolf Walking Trails, P.O. BOX 121, Manawa, WI 54949.
The family would like to thank all of the friends who stopped or called to visit with Don at his home.  A special thank you to ThedaCare Hospice.