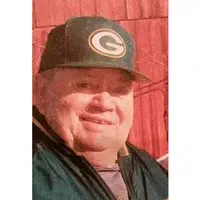 Melvin L. Krueger, age 75, of the Town of Pella passed away unexpectedly Friday, July 6, 2018 at his home.
Melvin Lee Krueger was born on June 8, 1943 in Clintonville to Ernst and Eldora (Durkey) Krueger.  He grew up in Marion and graduated from Marion High School in 1962.  While in school Melvin worked a few years at Marion Body Works before entering the U.S. Army.  He served from 1964 to 1967 including one year overseas in Korea.  Melvin was united in marriage on May 11, 1968 to Jane D. Kabble at St. Martin Lutheran Church, Clintonville.  After the military Melvin returned to Marion Body Works where he was employed as a welder until 1973.  Then the couple bought a farm in the Town of Pella, Shawano County, and dairy farmed for close to 40 years.
In his early days, Melvin enjoyed playing catcher for several Marion area baseball teams.  He was a huge sports fan all of his life, and often followed the Brewers, Packers, and Bucks.  He was an outdoorsman too; mainly deer hunting and fishing whether up north or close to home.  Melvin and Jane played cards for a number of years; favorites were sheepshead and smear.
He was a member of St. John Lutheran Church, Marion, and the American Legion Post # 456, Caroline.  Melvin was a longtime volunteer and supporter of the Pella Fire Department; serving as Fire Chief for over 20 years.  He will be remembered most as a hard-working and determined man who always got the job done.  Melvin loved working out in the field with his John Deere tractor and spending time with his grandkids.
Survivors include his wife of 50 years, Jane; and three sons, Larry Krueger of Shawano, Lonnie Krueger of Shawano, and Lyle Krueger of Marion.  There are three grandchildren; Jared, Amanda, and Autumn Krueger.  There are two sisters, Connie Hoffmann of Tigerton and Julie Krueger of Marion; and one brother, James O. (Diane) Krueger of Caroline.  He is further survived by nieces, nephews, many other relatives and friends.  Melvin is preceded in death by his parents and two infant twin brothers.
Memorial Service will be held on Tuesday, July 10th at 11:00 AM at Beil-Didier Funeral Home, Clintonville.  Military Honors will be provided at the funeral home by members of the American Legion Post #456, Caroline.  Rev. Beth Macha will officiate and inurnment will be at Roseland Cemetery, Town of Dupont.  Friends may call on Tuesday from 10:00 AM until time of service at the funeral home.