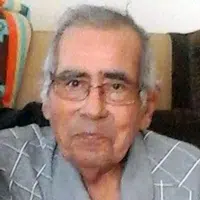 Bidal Torrez Sr., age 84 of Clintonville passed away on Saturday, July 7, 2018 at his home.
Bidal was born on February 14, 1934 in Fredericksburg, Texas, one of fourteen children to Materno and Isabel (Guajardo) Torrez.  He grew up in the Fredericksburg / Kerrville area.  As a young man, he worked as a golf caddy, a hunting guide, and a migrant field worker.  Bidal was united in marriage on July 4, 1954 to Rosario Cervantez in Crystal City, TX.  The couple lived in various states because of Bidal's employment; like Texas, Montana, North & South Dakota, Nebraska, Wisconsin, Ohio, and Oklahoma.  Bidal and Rosie put down roots in Wisconsin when he started at Flanagan's Sauerkraut Factory, Bear Creek, where he worked for several years.  Bidal was employed for many years at Neenah Foundry, retiring in the late 1970's.  In 1976 the couple settled in Clintonville.  Bidal and his kids had the rural route delivery of the Appleton Post-Crescent for years to the Clintonville, Bear Creek, and Symco areas.
Since the spring of 1991, Bidal became a member of Valley Harvest Church, Neenah.  He often shared his strong faith with others and liked participating in home Bible study groups.  His interests included watching the Green Bay Packers and fishing, especially for bass and suckers.  Bidal had a wonderful sense of humor, was a huge story teller, and was known for his crazy facial expressions.  He will be remembered most a devoted husband, a loving father, and a proud grandfather.
Survivors include his wife of 64 years, Rosie; and their children, Pastor Bidal (Sherry) Torrez Jr. of De Pere, Rosemary (Mark) Riechert of Marion, Ramiro (Jodie) Torrez of Clintonville, Martha (Gerald) Dethardt of Clintonville, Maria (Glenn) Berg of Embarrass, Raul (Angel) Torrez of Clintonville, and a great grandson Isaiah Torrez whom he raised like a son.  There are 18 grandchildren:  Nicole Cook, Jeremiah Torrez, Christopher (Becky) Torrez, David Torrez, Colin Torrez, Breanna Altman, Brandon Riechert, Ryan (Lyndsey) Malliet, Jay (Becca) Malliet, Katie Torrez, Becca Torrez, Daniel Torrez, Kylee Berg, Cody Baker, Amber Miller, Mercedes Torrez, Miranda Torrez, and Selena Torrez.  There are 19 great grandchildren:  Noah Bleck, Nathan Lorenz, Samuel Cook, Nicholas Cook, Jared Zoern, Amelia Torrez, Lenaiah Altman, Aiden Altman, Olivia Altman, Riley Vidal, Airya Vidal, Felicity Riechert, Corbin Malliet, Nathan Malliet, Henry Malliet, Gabriel Baker, Zariah Miller, Silas Miller, and Bella Schimke.  There is one great-great grandson, Liam Torrez.  He is further survived by one brother Ventura Torrez of Fort Worth, TX; one sister Romana Gonzalez of Kerrville, TX; and countless other relatives and friends.
Bidal is preceded in death by his parents; infant children Daniel and AnnaMarie Torrez; a son Rudy Torrez; a grandson Tyler Torrez; numerous brothers and sisters; and his father and mother-in-law Luis and Socorro Cervantez.
Funeral Service will be held on Thursday, July 12th at 5:00 PM at Beil-Didier Funeral Home, Clintonville, with Rev. Dennis Quinnell officiating.  Friends may call on Thursday from 2:00 PM until time of service at the funeral home.
The family wishes to thank all the nurses with ThedaCare at Home Hospice, mainly Kelly, Angelique, Laura, Kristy, and social worker Shannon; for the loving and compassionate care given to Dad.