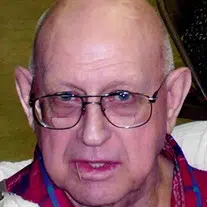 Franklin C. "Huntz" Thomas, age 93 of Shawano, passed away peacefully Saturday evening, June 30, 2018 at ThedaCare Medical Center-Shawano.
Huntz was born April 10, 1925 in Shawano, a son of the late Herman and Hattie (Meisner) Thomas. He attended St. James Grade School and later Shawano High School. Huntz went on to work at the Shawano Paper Mill. He then moved to Two Rivers where he worked at Metal Ware. He met his future wife, Helen Winnega, in Two Rivers, and married her on October 21, 1951 at St. James Lutheran Church in Shawano. She preceded him in death on January 26, 1989. The coupled lived in Two Rivers for several years until moving to Shawano.
Huntz is a lifelong member of St. James Lutheran Church in Shawano. He worked for Weber Plywood and Veneer in Shawano, followed by FWD in Clintonville. He then worked at Dey's Concrete until taking a full time position at St. James Lutheran Church and Grade School as the maintenance man. Huntz was interested in maintaining the church and school while being conservative. In his younger years he enjoyed attending softball and baseball games. He loved to build birdhouses, and enjoyed vacationing up north at Rolling Stone Lake.
Survivors include his four children, Cheryl (David) Strauss of Orlando, FL, Alan (Brenda) Thomas, Debra (Steven) Marohl, and Grover (Lynne) Thomas, all of Shawano; nine grandchildren, Tracy Strauss, Alanna (Tim) Maas, Scott (Tracy) Marohl, Tyler Marohl, Amy Daebler, Tricia (Dave) Snow-Nault, Jenna Kleinke, Mindy Hoeffs, and Wesley Marohl; thirteen great-grandchildren; his sister-in-law, Ruth Thomas; and numerous nieces and nephews. Huntz was preceded in death by his granddaughter, Shannin Marohl; four brothers, Arnold, Raymond, Grover, and an infant brother, Robert; and one infant sister, Mary Ella.
Funeral services for Franklin C. Thomas will be held on Saturday, July 14, 2018 at 11:00 AM at Mickelson Funeral Service of Shawano. Rev. Dr. Timm Griffin will officiate. Visitation will begin at 9:00 AM and continue until the time of service. Interment will be in Woodlawn Cemetery.
In lieu of flowers and plants, the family prefers memorials to the St. James Radio Broadcast Fund and the church air conditioning fund.