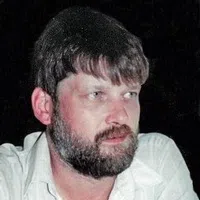 Daniel Lee Davis, age 54 of New London, passed away on Tuesday, July 3, 2018 at Crossroads Care Center in Weyauwega following a 9 year battle with cancer.  Daniel was born on August 3, 1963 to Roger and Carol (Genke) Davis in New London.  He was an avid outdoorsman, who loved to fish, hunt, camp, and go four-wheeling. Daniel was employed at New London Engineering for the past 23 years.
Daniel is survived by his parents; brother, Rodney (Deb) Davis and their children, Brandon, Amber, Tanya, Jonathan and Christopher and his maternal grandmother, Crystal Genke.
Daniel was preceded in death by his paternal grandfather, Roy Genke and paternal grandparents, Donald and Alice Davis.
A memorial service for Daniel will be held at 11:00 a.m. on Saturday, July 7, 2018 at Cline & Hanson Funeral Home in New London.  A gathering of family and friends will take place from 9:00 a.m. until the time of the service at the funeral home.  Burial will be in Ruckdashel Cemetery in the Town of Lebanon.