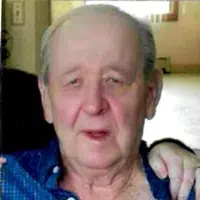 Bernard "Bernie" Huebner, age 82 of Big Falls passed away on Saturday, June 23, 2018 at Crossroads Care Center, Waupaca.
Bernard Charles Huebner was born on June 15, 1936 in the Town of Helvetia, Waupaca County, to Harvey and Frieda (Kitzman-Monroe) Huebner.  Bernie was a lifetime resident of the Big Falls area and never married but he dated the love of his life, Martha Kimball, for many years.  He was employed at FWD Corporation – Seagrave in Clintonville for 34 years, retiring in 1998.  For a number of years he sold Christmas trees and made wreaths for countless folks.  Bernie also operated a salvage yard in the Town of Wyoming, Waupaca County.
Bernie was a member of St. Peter's Lutheran Church, Big Falls.  He enjoyed recycling vehicle parts; and scrapping for steel, copper, and aluminum.  Bernie was always a hardworking man, who was tough as nails and never complained about anything.  He liked being outdoors and going on camping trips with his lady friend Martha.  Bernie will be remembered most as a kind hearted, great man; who kept his promise and was always there for you.
Survivors include three sisters, Beverly (Arden) Cady of Ogdensburg, Karen Seelig of Tigerton, and Frieda Mauritz of Tigerton.  There is one sister-in-law, Joyce Huebner; and many nieces, nephews, other relatives and friends.  Bernie is further survived by numerous relatives from the Kimball family.
He is preceded in death by his parents, his girlfriend Martha; four brothers Pete, Arlyn, Martin, Marvin "Skeziks" Huebner; one sister-in-law Rosemary Huebner; two brothers-in-law Clarence Seelig and Raymond Mauritz Jr.; two nephews Roger and Ricky Huebner; a niece Mary Huebner-Buss; and many other aunts, uncles, and relatives.
Memorial Service will be held on Saturday, June 30th at 11:00 AM at St. Peter's Lutheran Church, Big Falls.  Rev. Janice Kuder will officiate and inurnment will follow at Big Falls Cemetery.  Friends may call on Saturday from 9:00 AM until time of service at the church.  Beil-Didier Funeral Home, Marion, is assisting the family.