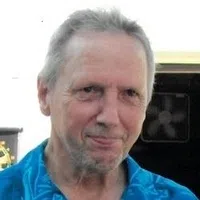 Roger Lee Lindow, age 73, of New London, succumbed to complications from P.S.P. at St. Joseph Residence on Friday afternoon June 15, 2018.  He was born on October 21, 1944 in Clintonville, the son of the late Orley and Lorna Lindow.  He graduated from Clintonville High School in 1964. On April 19, 1997 he married Sandra L. Countney in New London.  He worked for 45 years at Seagrave in Clintonville and was a custodian at Trinity Lutheran Church for awhile.  Roger enjoyed spending time with his wife, his home, his dog Mitze, relaxing in the sunroom watching his large T.V., running rummage sales, collecting Packer stuff, Packer games and bus trips.
Roger is survived by his wife of 21 years, Sandy; 7 step-children, Tess (Don) Paulson, Florida, Mary (Tom) Cristy, Washington, Cathy (Jim) Daniels, Grafton, Rebecca (Andrew) Flewelling, Vermont, Tim Countney, New London, Steve (Julie) Countney, Washington and Jen (Rick) Barr, Vermont; 7 step-grandchildren, Samantha, Madeline, Hannah, Olivia, Lauren, Emmeline and Brett; brothers, Lester, Gerald (Mina), Kenneth (Carol) and Bob (Barb); in-laws, Patti Lindow, Fr. David Cooney, Robert (Kathie) Cooney, Sharon (Bill) Butler and Fr. Art Cooney.  Roger is further survived by many nieces, nephews, other relatives and friends.
Roger was preceded in death by his parents and brothers, Orie and James Lindow.
The funeral service for Roger will be held at 11:00 a.m. on Thursday, June 21, 2018 at Trinity Lutheran Church in New London (709 W. Beckert Rd.).  Visitation will take place from 9:00 a.m. until the time of the service directly at the church Thursday.  Burial will be in Most Precious Blood Cemetery, New London.
Roger's wife would like to thank St. Joseph Residence nurses and aides for all the wonderful care they gave Roger.  Also, Compassus Hospice caregivers, Dr. Renae Schuler, Dr. Matio and Dr. Washer.
Cline & Hanson Funeral Home and Cremation Service is assisting the family