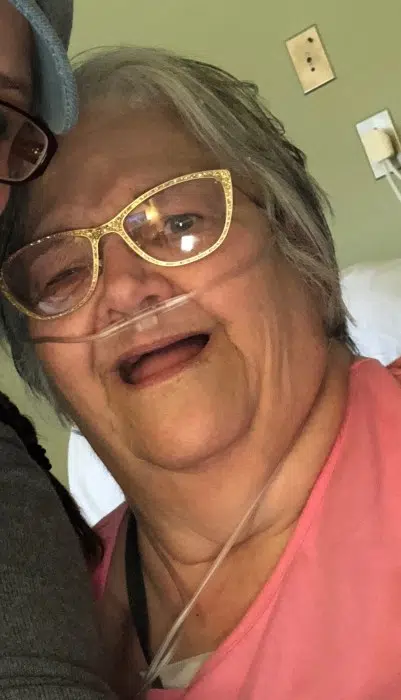 Karen A. Heling, age 65 of Marion, passed away Saturday, June 16, 2018 at ThedaCare Regional Medical Center, Appleton, with her family by her side.
Karen Ann Heling was born January 31, 1953, in Clintonville, daughter to the late Milton & Virginia (Flink) Polzin. She attended Lake Michael School and graduated from Marion High School in 1971. Karen was employed at Marion Plywood and was a babysitter for many years. She later owned and operated "The Flower Store" in Marion, along with her daughter, Angie. Karen met Jeff Heling in Shawano, and were later united in marriage on October 18, 1972 in Lancaster, MO. She was an active member of St. Paul's Lutheran Church, Town of Dupont, where she had amazing faith in the Lord and will now enjoy eternity in heaven. She loved sending flowers to family and friends – just because. Karen enjoyed numerous sporting teams, playing cards, calling/chatting with loved ones, and attending her grandchildren's activities. She will be remembered for her love of family and friends, her kind soul, and her willingness to help anyone she could.
Karen is survived by her husband: Jeff
Daughters: Jen Heling, Marion & Angie (Tim) Johnson, Tigerton
Grandchildren: Winston, Hesston, Weston, Houston, & Huckston Johnson
Sisters: Sharen (Steve) Friedrich & Carol Polzin
Brothers: Ken (Connie) Polzin, Ron (Meg) Polzin, Jimmy (Cindy) Polzin, & Chucky (Sue) Polzin
Sisters-in-law: Karen (Willy) Bullock, Sandi (Dan) Bullock, & Michelle (Mike) Hewitt
Brothers-in-law: Dennis (Michelle) Heling & Glen (Kathy) Heling
She was preceded in death by her parents; a brother-in-law, Larry Heling; & her mother & father-in-law, Betty Heling & Donald Heling.
Funeral services will be held 11 AM, Thursday, June 21, 2018 at St. Paul's Lutheran Church, Town of Dupont, with the Rev. Karen Riemer officiating. Interment will take place at Union Cemetery, Tigerton.
Friends may call on Wednesday, June 20, from 4-7 PM at the Eberhardt-Stevenson Funeral Home & Crematory, Marion, and again on Thursday at the church from 9 AM until the time of service.
In lieu of flowers, memorials are preferred to St. Paul's Lutheran Church, Town of Dupont, E6073 Hwy C Marion, WI 54950.
The family wishes to thank the great staff at ThedaCare Regional Medical Center, Appleton, for their outstanding support and compassion. The ambulance services of both Clintonville and Marion. Also, a special thanks to the Mountain View Care Center, Wausau. Their help eight years ago gave us that many more loving memories with our wife, mom, grandma, and friend. Thank you!
Eberhardt-Stevenson Funeral Home & Crematory is assisting the family.