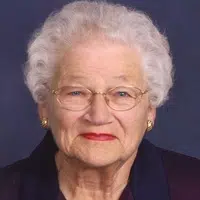 Hazel P. Otis, 96, of Appleton (formerly New London), was called home to the waiting arms of her Lord on Thursday, June 14, 2018 with family by her side.  She was born on July 12, 1921 in Clintonville, daughter of Albert and Emma (Drews) Reinert.  Hazel was united in marriage to Delbert Otis on September 26, 1942.  Hazel was a longtime resident of New London and member of Emanuel Lutheran Church, where she was also part of the Ladies Aid.  Hazel volunteered countless hours with DAV Chapter 53, American Legion Auxiliary, New London Senior Center, and with the local Meals on Wheels program, delivering meals until her 90th birthday.  In recognition of her volunteer efforts, Hazel was awarded the Most Admired Senior Citizen in Waupaca County in 2006. Hazel enjoyed many activities during retirement, including traveling throughout the United States and to Germany, polka-dancing, waltzing, bowling, Monday night card club, and nightly games of Tri-Ominos with Del.  Hazel especially took pride in her flower and vegetable gardens.  Taking care of her lawn brought her joy and for her 90th birthday she bought a new riding mower.  More than anything, Hazel loved being with her family and bringing her family together to share meals, stories, games, and laughs.  Hazel will be most remembered for her giving heart and her kind, welcoming spirit.
Hazel is survived by her four children: Ken (Faye) Reinert, Oshkosh; Boni (Ed) Jungwirth, Appleton; Kathi (Bob) Lubinski, Seymour; Chuck (Becky) Otis, New London; sister Elaine (Marvin) Wisnefske, Clintonville; grandchildren Mike (Rosa) Reinert, Linda (Bill) Turner, Brenda (Greg) Roblee, Scott Jungwirth, Ryan Lubinski, Lindsey Lubinski, Brent (Amanda) Otis, and Brad Otis, as well as great grandchildren and great-great grandchildren.
Hazel was preceded in death by her parents, brother Harvey (Angie) Reinert and sisters Mildred (William) Wismer and Myrtle (Robert) Lauer, as well as great grandson Tyler Otis.
Special thanks to the staff of Appleton Retirement Community and to ThedaCare at Home, especially Mary and Jessica for their excellent care.
The Christian Funeral for Hazel will be held at 11:00 a.m. on Tuesday, June 19, 2018 at Emanuel Lutheran Church in New London with Rev. Mark Tiefel officiating.  Visitation will take place at the church on Tuesday from 9:00 a.m. until the time of the service.  Burial will be in Graceland Cemetery in Clintonville.
In lieu of flowers, a memorial fund is being established for Emanuel Lutheran Church.